Sabine Baring-Gould was a scholarly English poet, priest and hagiographer whose considerable body of work includes the famous hymn Onward Christian Soldiers. This is the piece that he is most famous for but his output over a long lifetime ran to some 1240 different publications. He was a translator of ancient ecclesiastical scripts and is credited with a famous carol called Gabriel's Message which he translated from the Pyrenean Basque language into English.
He was born on the 28th January 1834 into very comfortable circumstances in the small village of St Sidwell which is close to Exeter, in Devon. His father was Lord of the Manor and owner of a grand country house called Lew Trenchard and his family tree contained a number of notable military men going right back to the 13th century Crusades. Another famous ancestor was Sir Francis Baring who created, along with his brother, the financial institution in the 18th century which eventually became known as Barings Bank.
Sabine had very little formal schooling as his family did so much travelling. His education was therefore left mostly to private tutors but his time at Warwick Grammar School was cut short by a serious bronchial illness. He did go on though to study at Cambridge and he gained a BA degree in 1857, followed by a Masters' three years later. He had an ambition to enter the priesthood from an early age and, following different teaching assignments, he was ordained in 1864. He took up a curate position at Horbury Bridge, in Yorkshire, and it was here that he met the woman who would become his wife of 48 years. They raised 15 children together.
On the death of his father in 1872, Baring-Gould became both vicar and squire of his ancestral home, Lew Trenchard, and he saw to it that the house, along with the local church, were renovated over a number of years. He took up the collection of West Country folk songs and he published a number of volumes of these poetic works, at one point collaborating with another famous collector called Cecil Sharp whose name is legendary in the traditional folk music world. In 1907 their joint publication English Folk Songs for Schools became a standard in English schools over the next sixty years or so.
Baring-Gould was much more than a collector and adapter of old songs though. He wrote countless novels, often featuring the myths and legends of the region in which he lived. Titles included Mehalah and Guavas, the Tinner which was a collection of ghost stories published in 1897. He wrote about mythical creatures such as werewolves and one of his most famous books was the two-part Curious Myths of the Middle Ages.
Many poems with a religious theme are credited to Baring-Gould and, as hymns, became standards sung all over the world. Perhaps the most famous title still sung today is Onward Christian Soldiers, very much an anthem of the Salvation Army. The first verse of this song is reproduced here: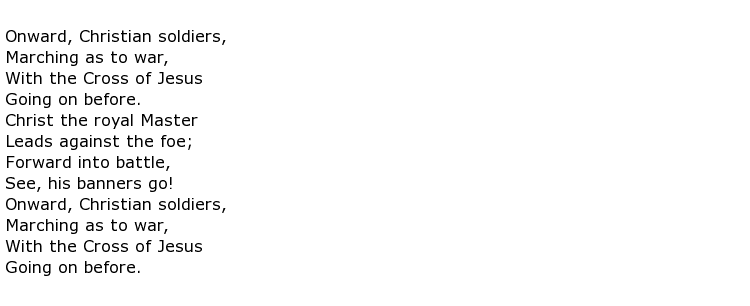 Baring-Gould lived a full life as a country squire and parson, author and teacher but he also found the time to organise archaeological excavations of hut-circles on the wilds of Dartmoor in collaboration with a close friend by the name of Robert Burnard. This set the parameters for future explorations of other ancient sites and, of course, he recorded his thoughts about Dartmoor in books such as A Book of Dartmoor, published in 1900.
The Reverend Sabine Baring-Gould died on the 2nd January 1924, aged 89.