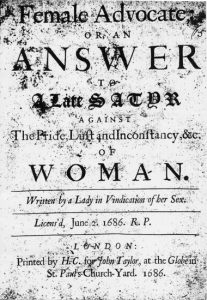 The English poet Sarah Fyge Egerton was one of few female poets around at the time and, as evidenced from her output of writing, she was an outspoken young woman. She touched on controversial subjects such as religion and politics along with the relationships between married couples and the development of friendships. As a teenager she took exception to a misogynist piece of writing by Robert Gould who attacked women, although he had done it in a satirical way.
She was born Sarah Fyge in London sometime during the year 1672, although details about her early life are sketchy at best. It is known that she was one of six children and they grew up in a reasonably well off environment as their father, Thomas Fyge was a landowning apothecary. Sarah was educated privately as her parents were easily able to afford it, and she studied subjects such as geography, mythology and philosophy.
It was clear that she would become a talented writer and, at the tender age of 14, she produced her response to the piece mentioned above by Robert Gould (Love Given O'er: Or a Satyr on the Inconstancy of Woman). Sarah's poem was called The Female Advocate and would prove to be her most popular piece of work. It was an unusually forthright statement questioning the social status of women, bemoaning their lack of freedom, especially in marriage. Such outspokenness did not go down well with some people though and, when a second edition was published, she was banished from her home by her father. She later wrote a poem called On My Leaving London which describes the upheaval caused by having to leave home and take up residence with relatives in Buckinghamshire. This poem appeared in a collection, published in 1703, called Poems on Several Occasions.
She was twice married, the first ending after a short time due to her husband's death. Her second husband was Thomas Egerton but this was a far from happy union. Sarah had a relationship with another man and attempted to divorce her husband, but without success. She continued to write despite her domestic uncertainties although, as was common at that time, much of her work was only for the eyes of other female writers. In a dedication to the Earl of Halifax at the start of her Poems on Several Occasions collection she said:



As her confidence and popularity as a writer grew she made it her business to speak out on women's rights whenever possible. A good example of this genre of work is reproduced here. The poem Emulation is a direct challenge to the "tyrant Custom" that, for centuries, had kept women in virtual slavery to men all over the world, irrespective of their social status or country of origin. It is written in "heroic couplets" and was a remarkably prophetic piece of work, predicting correctly that women would rise to prominence through education and a change of social and political attitudes. It took a while though. Here is the poem: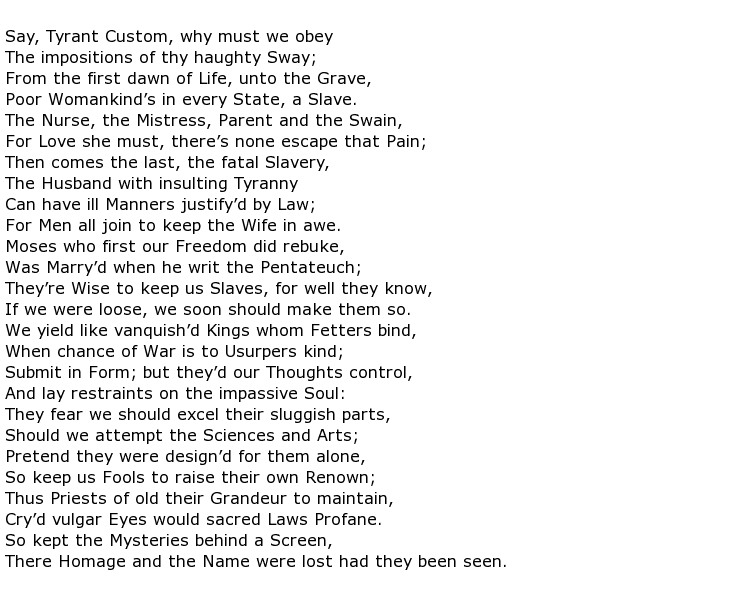 Sarah Fyge Egerton died on the 13th February 1723. As her precise date of birth is not known she would have been around the age of 51 at her death.