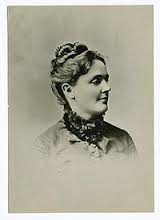 Born on the shoreline of Maine in 1849, Sarah Orne Jewett was a poet and novel writer who produced a large number of popular works that reflected the local color of the area. Her family had lived in the region for a since the Founding Fathers and were well known. Her father was a respected community doctor whom she regularly used to accompany as he went on his rounds.
At a young age, Jewett unfortunately began to suffer from arthritis and would often go on long walks in the country to try and make herself better. Her growing love of nature would be something that came across in her works over the years. She would, for most of her life, be dedicated to the small town life of Maine though she spent some periods visiting Boston and mixing with the literary lights of the age.
Jewett went to school at Miss Olive Rayne's place and then went onto the academy in nearby Berwick from which she graduated in 1866. Although she was a member of the local Episcopal Church, she never really considered herself as overly religious and often wanted to explore less conventional paths to spirituality.
Jewett was only nineteen when she published her first story and it wasn't long before her fame began to spread and over the next twenty years many people came to fall in love with her descriptive vignettes of life in Maine. Jewett's best work is often considered to be the novella The Country of the Pointed Firs which was published in 1896 and is often seen as series of small sketches of the people and events of the small fishing village that is its setting.

Jewett wrote a number of poetical works that were published separately before they were brought together in 1916 in her book Verses. She also published several children's books such as Betty Leicester: A Story for Girls. She remained single throughout her life and did not marry but did have a long and enduring friendship with fellow writer Anne Fields whose husband edited the Atlantic Monthly where Jewett published a lot of her works.

When James Fields passed away suddenly, Jewett and Anne moved in to the same home and spent the rest of their lives together. Whilst there is a suggestion that they had a more intimate relationship others believe they simply had a strong friendship and nothing more. They often traveled abroad to Europe and, in France, Jewett became friends with journalist and novelist Thérèse Bentzon who later translated a number of her books.
Through the 1890s Jewett continued to publish popular works such as Strangers and Wayfarers and The Life of Nancy. At the age of just 51, Jewett was in a bad accident involving a carriage and was so severely injured that it all but ended her writing career. In 1909 she suffered from a stroke that left her unable to move and she died a short month later after another attack.