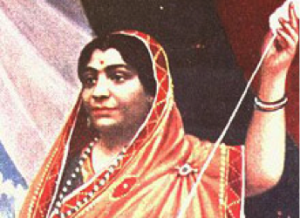 Sarojini Naidu, known as the 'Nightingale of India', was a celebrated poet, playwright and Indian independence activist.  She was the first woman to become President of the Indian National Congress and the first woman to achieve the post of Governor of Uttar Pradesh state.
She was born one of eight siblings on 13th February 1879. Her family at that time lived in Hyderabad, India. Dr. Aghomath Chattopadaya, her father, was a scientist and philosopher. Varada Sunderi Devi, her mother, was a poet.  Sarojini was an extremely intelligent child, becoming fluent in five languages and wrote poems from a young age.  Her father wanted her to follow his footsteps in the world of science and mathematics, but when she composed a poem which she titled 'The Lady of the Lake' which was thirteen hundred lines long she impressed him with her mastery of words, and so he began to encourage her.  When, several months later she wrote a play, 'Maher Muneer' he sent it to the Nizam (ruler) of Hyderabad.  This resulted in her being granted a well-deserved scholarship so that she could study at King's College in England.  Here she expanded her writing to produce articles featuring themes such as the great temples and mountains of India and the complex details of Indian social life.
She returned to India when she was nineteen to be married.  Her husband was Dr. Muthyala Govindarajulu Naidu from southern India.  Theirs was not a singular caste marriage, which was not tolerated at that time. However, the marriage was strong, producing four children.
She joined the Indian freedom struggle after the 1905 partition of Bengal and met noted figures such as Mahatma Gandhi and Pandit Nehru.  She travelled extensively to other parts of the world, including Europe and America, in order to speak about the Indian Nationalist cause.  In 1919, she visited England as the of Indian Home Rule Commission.  The following decades saw her become more political, moving around India giving speeches on subjects as varied as welfare of the young, freedom of women and, of course, nationalism.  Her election as President of the Indian National Congress Party was in 1925.
Her political activities did not, however, dampen her enthusiasm for writing.  It was said that her poetry was so beautiful it could also be sung.  From 1905 to 1912 she wrote three collections of poems.  'The Golden Threshold' (1905) brought her recognition as Bul Bule Hind, or Bharata Khokila, – the Nightingale of India.  She dedicated 'The Golden Threshold' to Edmund Gosse, an author who she met when studying in England who, she said, "first showed me the way to the golden threshold."  This was a collection of folk songs as well as poems.  One poem was 'In the Forest', a melodramatic verse the opening lines of which are:

For the rest of her lifetime, she kept up her participation in the fight for India's freedom. This led to her arrest, in 1942 and imprisonment.  When India was given her independence in 1947 Sarojini was made Governor of Uttar Pradesh.
She was still working in her office when she had a heart attack and died on March 2nd 1949.