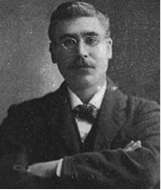 Seumas MacManus was an Irish poet and playwright who had a special talent for the ancient art of storytelling. He thrilled audiences everywhere with his verbal interpretation of old Irish folk tales. The Irish word for a natural story teller was seanchaí, and MacManus was considered to be the last exponent of this ancient art. He always claimed that he had learned this skill from an early age, possibly at seven years old. He would join the family sitting by the peat fires in darkened cottages listening to the ancient tales and remembering them for future re-telling.
He was born in 1869 in rural Mount Charles, County Donegal into a poor family that struggled to keep their farm going. Despite the financial difficulties, Seumas managed to get a decent education and his writing skills were rewarded with the publication of some of his pieces in American newspapers.
He was married in his early thirties, in the year 1901, and his new wife was the daughter of a County Antrim Fenian and a famous writer of poems and ballads called Ethna Carbery. Tragically she died a year after their marriage following a severe bout of gastritis and MacManus took it upon himself to ensure that all of her remaining work was published in the years following her death. He married again, in New York ten years later, this time to the daughter of the President of Venezuela.
His passion was certainly the revival and preservation of ancient tales that would have been lost had he not written them down and made them readily accessible once more. Folk singers the world over have done something similar of course, "keeping the tradition alive" with their finding and reworking of songs, some of which are hundreds of years old. MacManus insisted that the stories that he discovered were not for private reading, enjoyable though that may have been. He insisted that they were for telling "out loud". Apart from his own original poetry and prose writing, he made a career out of being a seanchaí and was revered for his many visits to such establishments as the Catholic University of Notre Dame in Indiana. Many of his stories were recorded and a substantial archive of his work remains in their vaults to this day.
In a similar vein to the Welsh writer Dylan Thomas, MacManus brought the locations and the people within them to life. Thomas wrote the famous Under Milk Wood which was the story of simple folk in a small Welsh coastal town. MacManus joyously described the everyday lives of characters in his own home town of Mount Charles, bringing people like "The Postmistress" and "Father Dan" and scores of others to life, to the great delight of all who heard him speak.
He published many books of poetry and short stories and his verse was often described as being



and that



Here is a typically lyrical example of his poetry. It is a piece called Leanbhain O: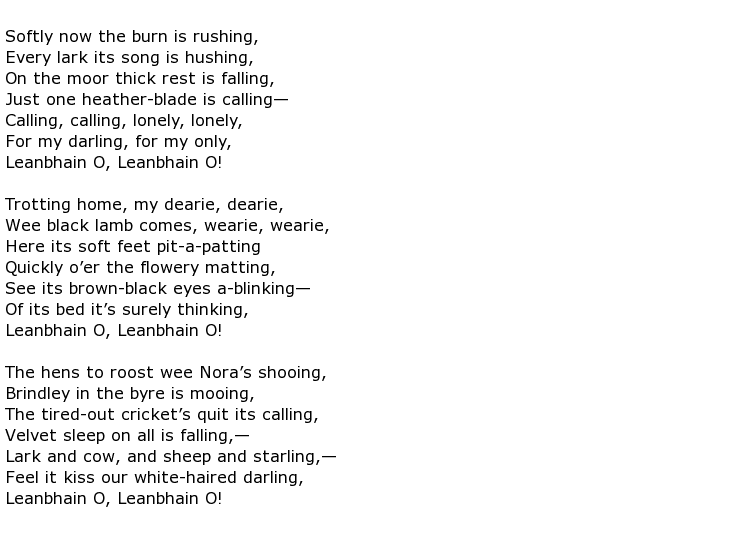 He did all he could, throughout his life, to promote the spirit of Ireland, portraying his homeland as a place of sunshine and warm-hearted people. He expressed a sincere hope that the "troubles" would soon be over and the religious divides would become a subject for the history books.
Seumas MacManus died sometime during the year 1960, at the age of 91.