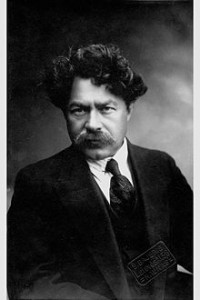 Born in 1875 in the Ukraine, Shaul Tchernichovsky is considered one of the great Hebrew poets of the modern era. Brought up in the small village of Mykhailivka he went to a Jewish school for the first few years of his education before transferring to a Russian establishment in Odessa where he began to write poetry seriously.
Tchernichovsky wrote his first poem, In My Dream, and published it at about the age of 16. After finishing school he went to the university at Heidelberg where he studied Medicine and would, from then on, combine his career as a doctor with that of a poet. He spent some time in Lausanne completing his medical studies before returning to the Ukraine.
When the First World War broke out, Tchernichovsky served as an army doctor and wrote a number of poems about his experience during this period. After the war he returned to the Ukraine and worked as a doctor for some years, though in 1925 he began to edit Hatekufa and spent about a year in America towards the end of the 20s.
In 1931, Tchernichovsky moved to Palestine where the British were still in control, eventually deciding to settle there permanently. In Palestine he worked on his poetry and also translated classic poetry such Homer's Iliad and Shakespeare's plays into Hebrew. Despite his success, he did not give up his medical profession, however, and served as a doctor in Tel Aviv, working closely with many of the schools in the region.

Tchernichovsky's work was influenced by a number of things outside of his Jewish cultural heritage. Not least of these was his love of classical Greek literature which he often remarked back to in his verses. He was responsible for introducing a style of sonnets into the Hebrew language and brought other cultural ideals to bear on his poetry.
Despite a number of external influence on his work, he was also, of course, deeply attached to the fate of his own people and their suffering during the first half of the twentieth century. His time in Palestine and later the state of Israel coincided with a period of great political and personal struggle that marked him out as one of the most important poets of his time.

Following the events of the holocaust he wrote poems such as The Slain of Tirmonye which brought to light the plight of the Jewish nation during the Second World War. In 1940 and 1942, Tchernichovsky was twice given the prestigious Bialik Prize which was awarded by the people of Tel Aviv for services to literature.
As he got older, Tchernichovsky became more concerned in his poetry with his childhood and produced a number of works that are often considered to be his best and most eloquent. Poems such as Oh My Land My Birthplace have also been set to music over the years by prominent musicians and composers.
He died in 1943 at the age of 68 whilst living in Jerusalem.