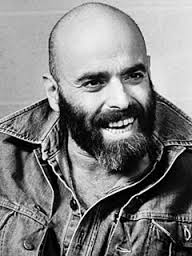 Now here is a curious mixture – a writer of predominantly children's stories, some leaning towards adult readers;  a writer of songs for famous recording artists;  a writer of musical scores for movies;  and finally a writer of plays for adults.  What an interesting life Sheldon Allan Silverstein must have led!
He was born in 1932 in Chicago, USA and passed through his childhood wanting to do what most boys wanted to do.  He wanted to be good with girls and be a famous baseball player. Unfortunately these ambitions were thwarted but he did find that he had a talent for drawing and writing and this developed into his early adult years. Some of these were spent doing US military service in Korea and Japan in the 1950s and he utilised some of his time writing cartoons for the Pacific edition of the famous military publication "Stars and Stripes".
On his return to civilian life the magazine Playboy recognised his art and he became a cartoonist for them in 1956.  A few of these were good enough to be published separately as collections:  More Playboy's Teevee Jeebies (Do It Yourself Dialogue for the Late Late Show) followed A Playboy's Teevee Jeebies and both were well received. But then came the transition into children's writing under the strong influence of editor Ursula Nordstrom who persuaded the reluctant Shel (as he was known) that he really could write for kids.
He came up with a witty idea about a lion who gets hold of a hunting gun and learns to shoot before joining a circus as a marksman (or should that be marks-lion?). Lafcadio, the Lion Who Shot Back came out in 1963 to wide acclaim from both children and their parents, not to mention the reviewers who gave it top marks.  It sold reasonably well;  well enough to encourage a follow-up – Uncle Shelby's A Giraffe and a Half (1964). Here are a few lines from Lafcadio – quite poignant really:
But the hunter will not listen to reason, so what is there for a young lion to do? After eating up the hunter, Lafcadio takes the gun home and practices and practices until he becomes the world's greatest sharpshooter.
Where Silverstein really hit the jackpot though was with The Giving Tree, also published in 1964.  This was a real cross-over book which appealed to kids, parents and drew critical comment from feminists like Barbara A. Schram. The basic premise was that a tree gives shade, its fruit, its branches and ultimately its own trunk in order to make one small boy happy.  IN the book, the tree is referred to as 'she' and 'her', thus prompting the feminist interest. The female tree is the selfless giver;  the young boy the selfish taker.  There were even suggestions of religious symbolism with this altruistic tree being the subject of discussions in Sunday schools.
In a departure from this area Silverstein composed the music and penned the words for such famous pop songs as Johnny Cash's 1969 hit "A Boy Named Sue" and "Sylvia's Mother", a big hit for Dr Hook in 1972. Motion picture score credits include well known films such as Ned Kelly, released in1970 and Postcards from the Edge in 1996.
More critically acclaimed children's writings included a 1974 poetry collection called Where The Sidewalk Ends. There was a touch of the Edward Lear about this work with such titles as Sarah Cynthia Sylvia Stout / Would Not Take the Garbage Out.  Like Lear, there was a lot of the "nonsense" style of poetry in Silverstein's work.  Here's a sample of what happens in the Sarah Stout household:

Ickle Me Pickle Me, Tickle Me Too and Hector the Collector were other funny examples, and good staples for the top drawer of the teacher's desk for those times when nothing but a humorous reading will do.
There were very many more titles that there isn't space to mention here but, suffice to say, Shel Silverstein has left a lasting legacy of work behind him for readers of all generations to enjoy.  Sadly he died of a heart attack in May 1999.