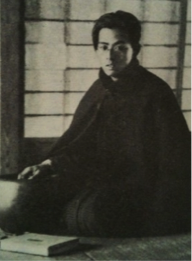 The Japanese poet Shinkichi Takahashi has been described as the only 20th century Zen poet in Japanese literature and one of Japan's all-time great poets. A pioneer in his own country of the European avant-garde art movement of Dadaism, he won the Ministry of Education Prize for Art for his Collected Poems in 1977.
He was born in 1901 in a small fishing village which can be found on the island of Shikoku, which is the smaller of the four Japanese islands. His family could not afford to send him to school so he taught himself to read and write and his ambition took him to Tokyo where he hoped to forge a writing career. There were many obstacles though for a poor village boy and he soon found himself back home, penniless and temporarily discouraged.   He continued to read and, one day, he read with great interest an article on European Dadaism and, thus inspired, he set off once more for Tokyo determined to do better this time.
He took menial jobs, first as a waiter and then a pantry boy in the offices of a city newspaper. He led an eventful life, writing poetry and just about staying out of trouble. However, when he managed to get his first book published in 1923, called Dadaist Shinkichi's Poetry, a copy of his book was presented to him by a policeman through the bars of his police cell! He realised that he could not go on with his impulsive ways and sought the advice and guidance of Zen Master Shizan Ashikaga in 1928. Shizan was well known for his disciplinarian ways and he took Takahashi under his wing. A strict training regime lasting 17 years followed, and he completed it in full.
In 1939 he had the opportunity to visit and learn from the Zenists in China and Korea and they made a great impression on him. He found time to write poetry and was taken on by a Tokyo newspaper once more, but this time as a journalist. This appointment, in 1944, was short-lived though – the offices were destroyed in a bombing raid the following year.
In his 50th year he was married and finally achieved a period of great happiness and serenity as he lived out a quiet life with his wife and two daughters. Such a state of peace seemed unlikely in his younger days. In 1985 he produced what is probably considered to be his most famous piece of work – Triumph of the Sparrow: Zen Poems of Shinkichi Takahashi – and this was translated into English and published in the year 2000, thus giving people all over the world the chance to appreciate the art of Zenist poetry. Here is an extract from one of his poems: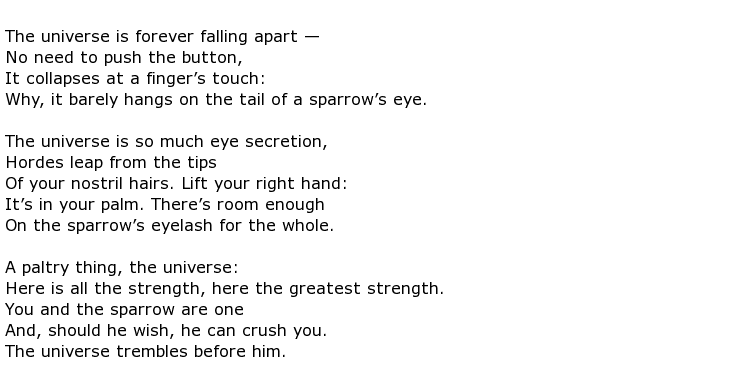 His work was known much earlier though in both the United States and England. One American art critic, writing in the Hudson Review in the 1970s, wrote the following about Takahashi:



The poet had a view, typical of a Zenist, that the world itself was pure and was only "fouled by our dripping mind-stuff". Art and life, for him, where one and the same. His early years of turbulence taught him the valuable lessons from which he learned to write in a unique way.
Shinkichi Takahashi died in June 1987 at the age of 86.