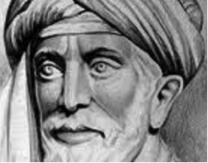 Shlomo ibn Gabirol was a Jewish poet and philosopher from the 11th century who is also known by the names Solomon ibn Gabirol and Solomon ben Judah. It is believed that he had over a hundred poems published and much of his work was of a biblical and philosophical nature. There must have been a mystical side to his character because it was written that he created a fantastical creature called a "golem", in female form, as a means of having someone to carry out his household chores.
Details of his early life are sparse but it is believed that he was born in Malaga, a Spanish coastal town in Andalusia, possibly around the years 1021 or 1022. He must have been born into comfortable circumstances with his father holding a prominent position, possibly in Government. Both parents were dead though before Gabirol was out of childhood and he found himself all alone in the world with no relatives. Fortunately he was taken in by a fellow Jew who brought him up well and protected him.
He must have received a good education as, in subsequent years, he didn't need to work but he used his educational background and intellect to write. He did this despite suffering considerably with his health and having to cope with those who were against him for a number of reasons, not least of which would have been the persecution that he inevitably suffered as a Jew living in a Muslim environment.
Perhaps he didn't help himself too much with the fact that he wrote in a satirical, often mocking way, never afraid to lampoon those in power and many considered Gabirol to be something of a "social misfit". He was left pretty much to his own devices and was able to study the Talmud, astronomy, literature and mathematics more or less unmolested but his world changed at the age of 17 when his generous guardian was assassinated – this was generally believed to be a political killing. Gabirol had been living in Saragossa and was now forced to leave, taking up residence in Granada instead. He was fortunate there to fall into favour with the grand vizier himself and the two had a good relationship until something happened which caused Gabirol to turn on the vizier with ironic poetry aimed at him.
This estrangement meant that the young man was on the move again and, in fact, he barely stopped wandering the country until he died. He got by with his intellect and poetry and had, even by the age of 17, already composed five substantial pieces of work with one azhara containing all of the 613 biblical commandments. Over the next ten years he produced many more highly complex poems, philosophical tracts and at least one collection of proverbs. His poetry, especially, was highly regarded in the Jewish community and beyond and here is an example of his verse, a poem called For a Marriage. This was a subject that he had no personal experience of as he never married.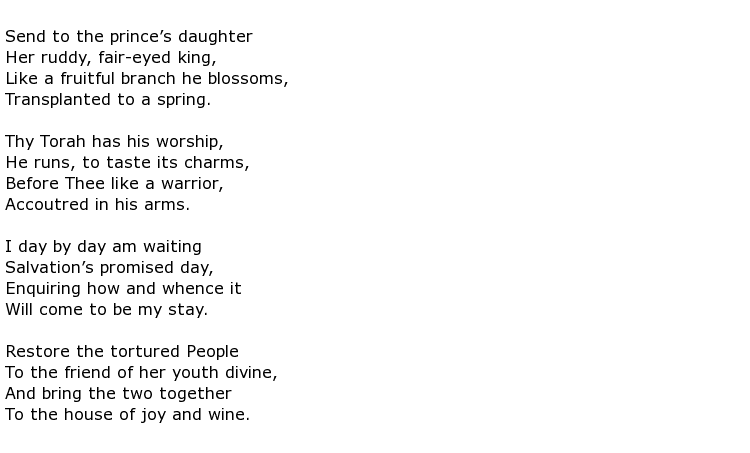 His sacred and secular poetry was so good that many have considered Gabirol to be the finest poet of his time. As a Jew living in a largely Arab world he was often influenced by his more worldly Arabic contemporaries. Not unexpectedly though, he became better known after his death than during his lifetime.
Reports of his death are surrounded in legend. Some would say that he was accidentally trampled by an Arab horseman, or perhaps it was deliberate? Others say that a jealous Muslim poet murdered him and buried his body alongside a tree. When that tree bore extraordinary fruit the ground was dug up and Gabirol's remains were found, the murderer being subsequently charged and then executed.
Even the year of his death cannot be established, with some accounts seeing him die by the age of 30 while others suggest that he lived at least until the age of 48. Most reports, however, agree that Shlomo ibn Gabirol died in Valencia.