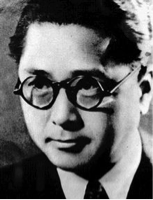 Sim Hun was the pen name used by a 20th century Korean writer, although this name is sometimes written as Shim Hum. He was a patriotic poet, novelist and playwright.
He was born Sim Daeseop on the 12th December 1901 in Seoul. His high profile family, the name of which is Yangbang, can be traced back centuries with many of its members holding influential positions at the court of the royals or in government. Sim was educated at Gyeongseong but his political activities during the 1919 protests against the Japanese occupation of Korea got him into trouble. He was expelled from the school and arrested.
He wrote for his mother of his wish to see his country freed from the rule of the Japanese and called Korea "the Greater Mother". After eight months of imprisonment he was exiled in the Eastern Chinese city of Hangzhou. He was able to continue his education at Zhejiang University and he then returned to his homeland in 1923. He found positions writing newspaper columns for three different papers and unhappily found himself subject to an arranged marriage with a member of the Yi royal family. Yi Hae-yong was a duke's daughter but the marriage ended in divorce in 1924. Sim remarried, this time to a woman who was more "modern" and they had three children together.
He wrote constantly and his considerable output of work includes poetry, plays, short stories and novels, most notably the book Sangroksu, a novel which won him a cash prize. Unselfishly he decided to use this money for the betterment of others, setting up the Sangrok movement. The aim of this was to galvanise young people to go out into the countryside where they could spread the word amongst the rural populace that the old Japanese colonial rule was bad for Korea and that they should


Sim kept most of his original work and many of these manuscripts have been preserved. In 1926 a novel called Talchum (Mask Dance) became the first story by a Korean writer to be adapted as a movie. His desire for independence from Japan was always in his mind and he published a collection of poems that commemorated the independence movement by the students of Gwangju that occurred in 1930. This collection was called Funari Omyeon which loosely translated to



Tragically he would not live to see "that day" which finally came in 1945. Here are a few verses from the piece: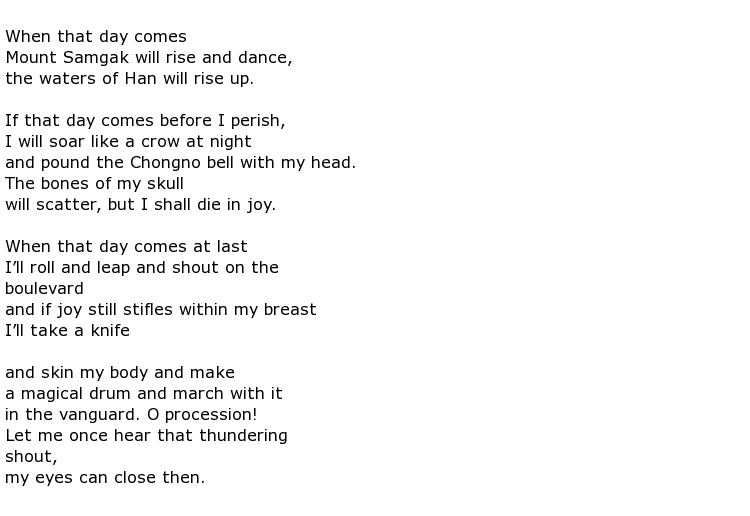 Some of Sim's work was published in various publications and he wrote about many subjects, including rural life and development and it is believed that his work named Jiknyuseong was written about the life of his first wife. What is thought to be his last piece of work was a poem honouring the Sohn Kee-chung who was forced to run at the Berlin Olympics of 1936 wearing a Japanese flag on his shirt. His gold medal winning performance inspired Sim to write Joseonui Nama (Chosun's Son).
His book Kunari Omyeon had originally been prohibited by the colonial government but finally saw full publication in 1949. His complete works were published in 1952 and then reissued in 1996. Despite the difficulties of writing freely while under colonial rule, Sim Hun established himself as a pioneer in Korean literature. His work is still standard text for modern-day South Korean students.
Sim Hun caught typhoid fever and died on the 16th December 1936 at the age of 35. He never saw his country's independence which came in 1945.