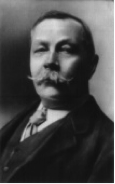 Sir Arthur Conan Doyle, KStJ, DL is best known all over the world as the author of the Sherlock Holmes detective stories, a series of books which owed much to his medical background. The precise, forensic mind of Holmes was inspired by Doyle's mentor during his medical training at Edinburgh, a man named Dr Joseph Bell. Indeed, when his good friend Robert Louis Stevenson first read the Holmes stories he remarked:

Doyle practiced for many years as a doctor but gave it up when writing became a lucrative occupation. As well as his detective stories he wrote poetry, romantic tales, plays and works of non-fiction such as a detailed account of why Britain had fought in the South African Boer Wars. This account was seen by the government of the day as justification for the conflict and Doyle considered that his knighthood followed as a result of their approval.
He was born Arthur Ignatius Conan Doyle on the 22nd May 1859 in Edinburgh. His parents were both Catholics and it was a fairly repressive household which was split when Arthur was only five years old. His father was an alcoholic and left his family to cope alone for a number of years. At the age of nine Arthur was sent, with the support of his wealthy uncles, to a Jesuit preparatory boarding school at Stonyhurst in Lancashire. It was a brutal environment and Arthur suffered at both the hands of his masters and other boys. The seeds of religious rebellion were already growing and by the time he had completed his education at a Jesuit school in Austria he was a declared agnostic. Eventually he took up spiritual mysticism and became an ardent follower of that faith.
During his five years of medical training in Edinburgh, Doyle began writing short stories for eventual publication. His first (The Mystery of Sasassa Valley) was published in the Chambers Edinburgh Journal in 1879 and was set in South Africa. He was able to travel a fair bit during his training and this included a spell as trainee doctor on a whaling ship. He followed this, after graduation, with an appointment as ship's surgeon on a trip to West Africa.
His first serious attempts at writing fiction came while working as a doctor in the English coastal town of Southsea. The first appearance of Sherlock Holmes and Dr John Watson was in the story A Study in Scarlet, published in 1886. This pair of detectives were to become the bedrock of his literary career although, in the end, he tried to kill off Holmes, much to the chagrin of his enthusiastic followers all over the world. In all, the character appeared in 56 of Doyle's stories and even transferred to stories written by other authors. Such was the power and influence of Arthur Conan Doyle.
His work covered other areas though and he was a prolific writer of historical novels and poetry. Sometimes novel and poem seemed to come together. Take, for example, the following piece called A Tragedy. There are obvious strands of the creature he created in his novel The Hounds of the Baskervilles here: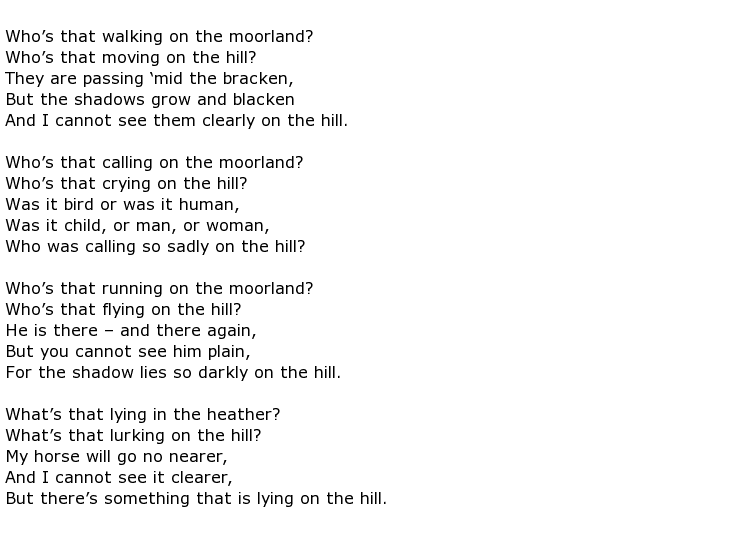 Perhaps, surprisingly, Doyle was also responsible for much lighter work performed on stage such as the comic opera Jane Annie which he penned in collaboration with the Peter Pan writer J M Barrie. Maybe even more surprising for a medical practitioner and writer was his sporting prowess. He played football, cricket and golf with distinction, representing the Marylebone Cricket Club at one time.
Doyle married twice and had five children. King Edward VII knighted him in 1902 and he became Deputy-Lieutenant of Surrey at the same time. A full and interesting life came to an end on the 7th July 1930 when he collapsed and died of a heart attack at his home in East Sussex. He was 71 years old.