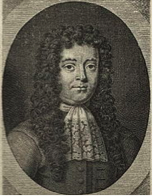 Sir Charles Sedley, 5th Baronet was an English poet, translator, playwright and wit who was also a well-known patron of the arts and literature during the Restoration period. He was much admired amongst other writers. He also served as a Member of Parliament.
He was born sometime during March 1639 into a prominent and very wealthy Kentish family who resided in the village of Aylesford, near Maidstone. His father was Sir John Sedley, 2nd Baronet. Charles studied at Wadham College, Oxford but did not remain long enough to obtain a degree. Perhaps family circumstances influenced that decision as he succeeded his older brother William to become 5th Baronet at the age of 17. The family had a somewhat tumultuous history with illegitimate children and madness cropping up here and there and, when Charles died in 1701, the Sedley baronetcy was not passed on as there was no one to inherit the title.
Sedley's early writing output was considerable and consisted of a mixture of pastoral dialogues and light, romantic verses, many of which were set to music and sung widely. Perhaps his most famous song was Phyllis is my only joy and it is reproduced here: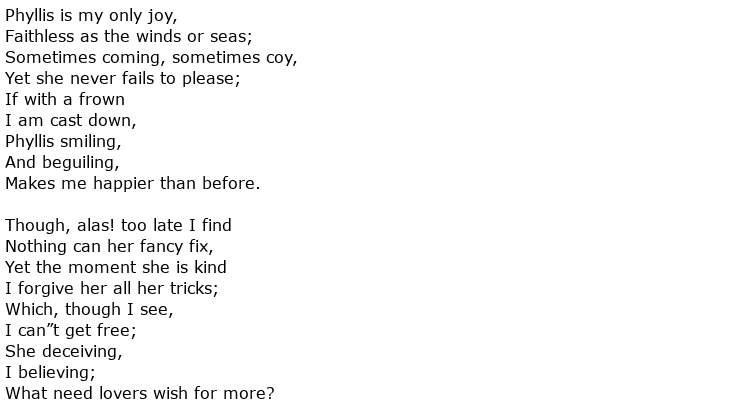 Additionally he delved into satirical epigrams during the last two decades of the 17th century which were both witty and, sometimes, accusatory of those who were unable to appreciate or understand the concept of satire. An example of this can be found in the epigram To Nysus where the author writes:

Sedley also had an interest in the ancient writings of Roman poets such as Ovid and Virgil and he translated a number of their works into English. His witty compositions are what he is best known for and he produced a number of plays in this vein including The Mulberry Garden in 1668. Arguably his best was Bellamira or The Mistress, a play based on the real-life character Barbara Villiers, the Duchess of Cleveland, who was well-known as the mistress of Charles II. This had a darkly-comic, maybe even cynical, tone to it, whereas Mulberry was clearly a celebration of the Restoration and reflected the mood of society at that time. He also wrote tragic plays such as Antony and Cleopatra in 1677 and The Tyrant King of Crete, which appeared five years later.
Sedley was also known for his sometimes outrageous, lewd behaviour and he was numbered amongst the "Merry Gang" of courtiers who were not averse to making spectacles of themselves in public. One such incident involved Sedley, Sir Thomas Ogle and Lord Buckhurst who, on one drunken occasion in 1663, caused a crowd numbering at least a thousand to gather beneath the balcony of Kate's Tavern in Oxford to watch their antics. At one point a naked Sedley, according to the diarist Samuel Pepys,


The Lord Chief Justice said later that it was



Despite such behaviour Sedley also served time as a prominent Member of Parliament and established himself as a witty and forceful speaker between the 1660s and the end of the 17th century. He held the seat of New Romney in Kent until his death.
Sir Charles Sedley died at Hampstead on the 20th August 1701 at the age of 62.