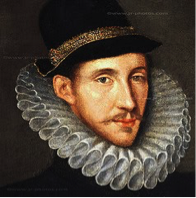 Sir Edward Dyer was a 16th century English poet and popular member at the court of Queen Elizabeth I.
He was born sometime during October 1543, the son of Sir Thomas Dyer, Kt., at the family home of Sharpham Park which lies close to Glastonbury in Somerset. Information about his education is a little unclear, but it seems that he obtained a degree from one of the Oxford colleges. He then travelled abroad before being called back to take up a position at the Royal court.
Dyer was becoming a writer of some repute and came to the notice of Robert Dudley, the Earl of Leicester who became his first patron. Dudley considered elevating his protégé up the court ranks, possibly ahead of the current favourite with the Queen, Sir Christopher Hatton. Whether or not this happened, Dyer was certainly well thought of in court circles and the celebrated poet of the time, Sir Philip Sidney, made a bequest of all of his books to him and another famous poet, Fulke Greville.
As well as being a court poet, Dyer was also commissioned by the Queen with a number of trips abroad and within England. He visited the Low Countries of Holland and Belgium in 1584 and then Denmark five years later. He almost fell out of favour on a land enquiry mission to the west of England but somehow recovered his position and was, in fact, granted some forfeited lands in Somerset in 1588.
For his literary, as well as civil service efforts, he was knighted in 1596. Sir Edward was made a Chancellor of the order of the Garter but his distaste for some elements of court life were never hidden. Some of his poetry describes the pressures to be endured there, a good example being My Mind to Me a Kingdom Is. This is generally accepted as being Dyer's work but some historians have suggested that another writer – Edward de Vere, the 17th Earl of Oxford may have been responsible for it. The last two lines in verse two of the poem, reproduced here, suggest that the author is not one of the social climbers to be found at any court: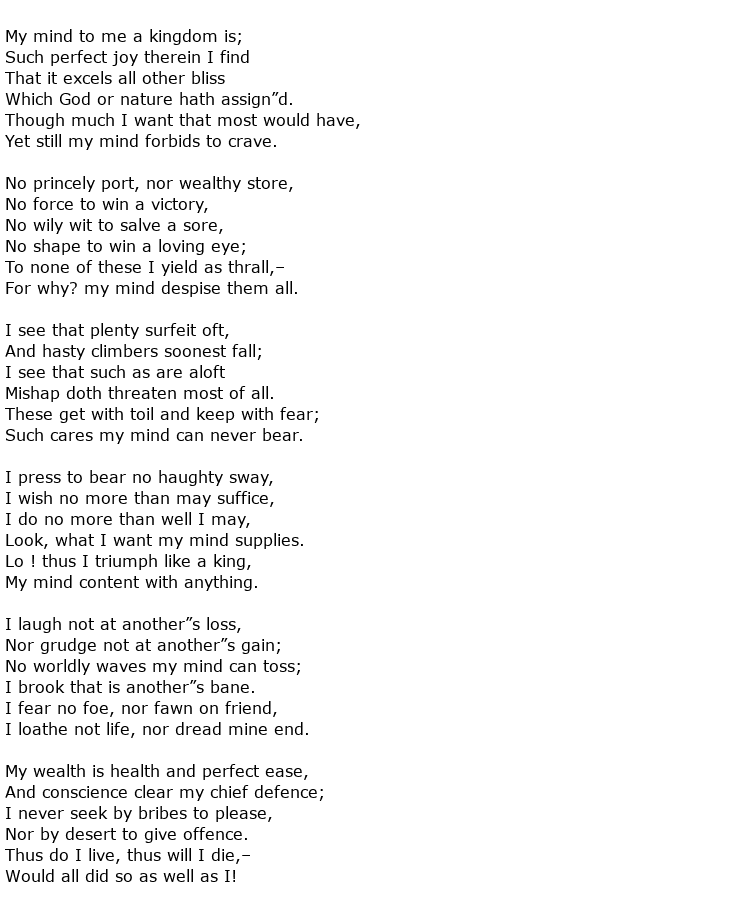 Writing in the 18th century, the English antiquarian and bibliographer, William Oldys, recognised Dyer's reluctance to fall in with the weaker elements at court, saying of him that he "…would not stoop to fawn", suggesting that Sir Edward was a strong minded man who did not believe in kow-towing to those who might consider themselves his superior.
Although he had a good reputation as a poet in his lifetime, his work has not really stood the test of time. George Puttenham, who was a writer and literary critic around at the same time as Dyer, describes him thus:



Sir Edward Dyer died on the 11th May 1607 at the age of 63 and was buried in the chancel of St Saviour"s Cathedral, Southwark.