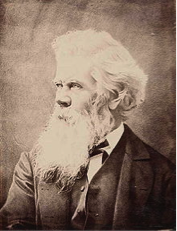 Sir Henry Parkes, was an English-born poet who, after early struggles in his homeland, took his new wife to Australia in 1839 in search of a better life for the two of them. He had already shown political leanings in England and he soon took up politics in his new home, the colony of NSW, Australia. He went on to become well-known due to his unstinting efforts to unite the six existing colonies into one federation. After a life that led him to be described as "the most commanding figure in Australian politics" he sadly died five years before the federal process was completed.
He was born on the 27th May 1815 in Canley, close to the Warwickshire city of Coventry. He was the son of a tenant farmer and his upbringing was modest. He received very little education and ended up in a series of menial, lowly paid jobs and it was while working at a factory in Birmingham that he began campaigning on behalf of his fellow, mistreated workers. He found time to read though, taking an interest in British poetry. Thus inspired he wrote some of his own and dedicated a few verses to the woman who would become his first wife. He was married three times altogether.
He tried to make a go of a business venture but it failed and the couple struggled constantly to forge a happy life together. They had already lost two children when Parkes decided that they should emigrate to the new colonies of Australia. They landed in New South Wales in July 1839 and found that life here, just as it was in England, was hard. He found work though and gradually made his way up to a position in the Customs department in Sydney.
His first collection of poems was published in 1842 under the title Stolen Moments and he continued to work in Customs for another four years before he left that position to try his hand at running his own business. This was not successful though and he found himself in considerable debt, only keeping his family afloat by continuing to write poetry, usually for publication in newspapers. Politics were never off his agenda though and he began to campaign on behalf of major political issues like Federation and the ending of convict transportation to Australia.
Parkes found a voice in his own newspaper, called the Empire, where he attacked vehemently the colonial government and individuals in it such as Governor Charles Augustus FitzRoy. He was eventually elected to the Sydney Legislative Council but he struggled with debts, both personal and those of the newspaper. He constantly tried to juggle his responsibilities before eventually giving up the newspaper and standing for parliament in 1859. He was elected as member for East Sydney.
Parkes made steady progress in politics, despite often being burdened with debts. His great ambition to see an Australian Federation was his driving force and it was sad that he did not live to see that come to fruition. He somehow found the time to write a great deal of poetry, and he produced six separate volumes. They were published over a period of 53 years, beginning with Stolen Moments in 1842 and ending with Sonnets and Other Verses in 1895. It could never be described as great poetry but some of it was deemed worthy of inclusion in anthologies of Australian poetry.
Perhaps a reflection of the many struggles that he had faced in lifetime, he wrote a poem called Weary and it is reproduced here:


Sir Henry Parkes died on the 27th April 1896 at the age of 80.