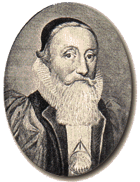 Sir John Davies was an English poet who also served as a Member of Parliament on different occasions during the first two decades of the 17th century. As a prominent lawyer he was Attorney General for Ireland while laying down a number of legal principles that passed into the statute books for the whole British Empire.
He was born in early April 1659, records suggesting that his place of birth was Chicksgrove Manor in the village of Lower Chicksgrove which lies about ten miles to the west of the city of Salisbury. His parents sent him to Winchester College where he developed a keen interest in literature. At the age of 16 he went up to Queen's College, Oxford although this period of study lasted less than two years. On leaving Oxford he decided to take up the law, enrolling at Middle Temple in the City of London. Disciplinary problems plagued his time there though and he was expelled after one suspension too many.
He had a brief spell in Holland and had taken up the writing of poetry. Luckily his work received royal attention and Queen Elizabeth arranged for Davies to resume his legal studies at Middle Temple. Just before being called to the bar, in 1595, he had a poem called Orchestra published and his political career began soon afterwards. His first taste of Parliament came with election to the Dorset seat of Shaftesbury in 1597.
Indiscipline returned the following year when he was disbarred from chambers after entering the Inns dining hall accompanied by two swordsmen and assaulting one Richard Martin with a cudgel. This was in response to a public insult which Davies needed to avenge and, having done so, he boarded a boat outside and headed for Oxford with the sole aim of concentrating on poetry from then on. He retained the approval of the Queen who enjoyed his Nosce Teipsum, a piece that was published in 1599. He dedicated another, Hymns of Astraea, to Her Majesty in 1599.
Davies's turbulent career took another turn shortly afterwards when the state ordered a number of published works to be burned. His Epigrams was on that list. Two years later he was back in favour when, having apologised to Martin, his former insulter, he was back at the bar and also elected to another Dorset parliamentary seat – this time it was Corfe Castle. He was honoured two years later to be named as part of a deputation sent to accompany King James VI of Scotland to London to be crowned King of England.
It so happened that James was an admirer of Davies's poems and he lavished honours and riches on him almost immediately. As SIR John Davies he found himself appointed as Solicitor-General and then Attorney-General to Ireland in 1603. He found the country in disarray but, through his reformist efforts over a number of years, things improved considerably for the Irish people.
He was back in England by 1619 and, two years later, was appointed Lord Chief Justice. This was, without doubt, the pinnacle of his career but he had very little time to enjoy it. Troubled by his weight for most of his life, he suffered apoplexy following a supper party on the 7th December 1626 and died in his bed.
Although he had devoted much of his life to a political and legal career, Sir John's poetry output was fairly large with much of his work consisting of sonnets and epigrams. Here is an example of the latter, exhibiting a talent for self-mockery. It is a short poem simply called Man:



His work was much neglected until the late 19th century when T S Eliot generated considerable interest in it.
Sir John Davies died on the 8th December 1626 aged 57.