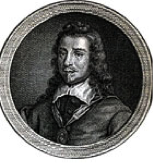 Sir Denham was an poet who was much in favour in royal circles. He was eventually elected Fellow of the Royal Society of London, a scientific body of men that was instigated during the reign of Charles II.
Doubt surrounds Denham's year of birth with some records suggesting 1614, while others say 1615. It is known that he came into the world in Dublin into a wealthy family, his father being Chief Baron of the Exchequer in Ireland. His mother was the daughter of the 1st Viscount Moore. His education was mainly completed at Trinity College Oxford and then he studied law at Lincoln's Inn Fields in London.
During the Civil War, Denham was on the Royalist side and served as High Sheriff of Surrey and then Governor of Farnham Castle. He had ambitions to enter the House of Commons and was elected to the unusual seat at Old Sarum, Wiltshire in 1661. This was one of the so-called "Rotten Boroughs" where a tiny, hilltop settlement consisting of very few people were represented by two MPs. His appointment to the Royal Society came two years later and he was awarded the Order of the Bath, becoming Sir John Denham from then on.
As well as having literary talents, Sir John had some level of architectural aptitude. He was involved in the building of the Piccadilly building Burlington House in 1665 which became his personal residence, and the newly restored king made him Surveyor of the King's Works. This appointment created some jealousy amongst his peers, many believing that his status as a royal courtier was the reason for the appointment rather than his skill as an architect. Indeed, Denham's deputy, John Webb, has been credited with most of the achievements during their time in office.
Denham's output of poetry was small, his first effort being a tragedy called The Sophy which was published in 1641. He is best remembered though for his lyrical poem Cooper's Hill which was published the following year and is generally acknowledged to be the first English example of a poem that describes in vivid detail the landscape around the author's home. His affection for the river ("the most lov'd of all the Ocean's sons) and the Thames Valley is clear to see: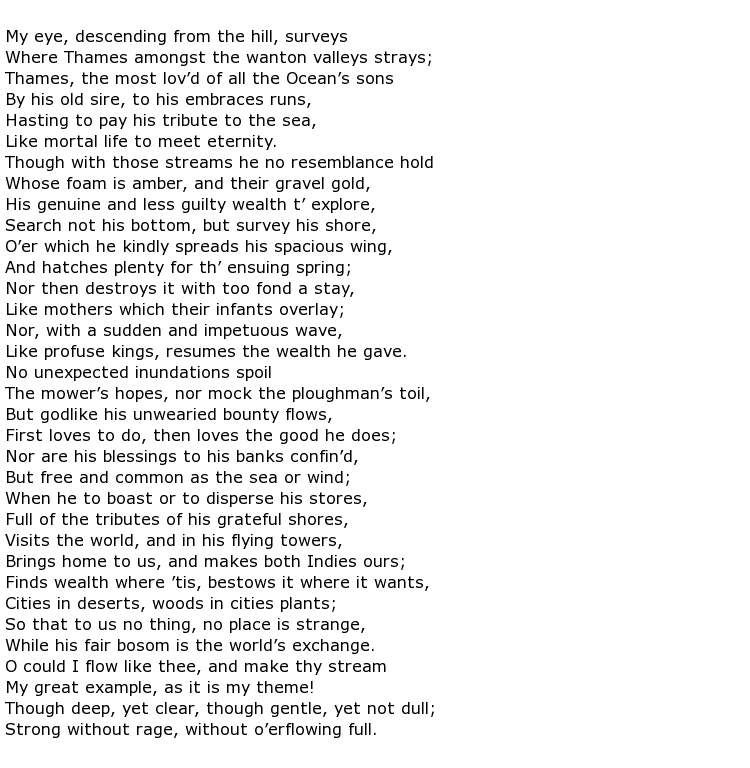 Different versions of this poem were produced, often reflecting changes in the political landscape brought about by the Civil War. Both Denham and another writer, Edmund Waller, became known as the 'Sons of British Poetry' and Samuel Johnson was an admirer of his work. Perhaps there would have been more but for the author's struggles with dementia during the final years of his life. The king recognised that Denham was struggling with his work and appointed Christopher Wren as deputy surveyor and, within two weeks, Sir John was dead.
Sir John Denham, FRS died on the 19th March 1669 at the age of 54 or 55. He is buried in Poet's Corner, Westminster Abbey