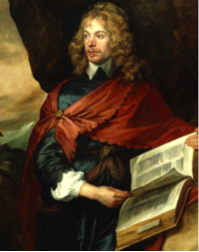 Sir John Suckling lived a very short life in the first half of the 17th century and has been described, by many historians, in terms such as "cavalier playboy" or "fop". He was much more than that though and, at the tender age of 18, was sent abroad in an ambassadorial role by King Charles I. He also carried out military service both at home and abroad; this was the time of the Thirty Years War and Suckling spent time fighting in the Low Countries. Additionally he was a poet who wrote in a witty, somewhat carefree style that was much favoured at the Royal court. His flamboyant air and easy, aristocratic charm made him a popular courtier and the King knighted him at the tender age of 21.
Suckling was born into a prosperous family in February 1609 who were living at that time in the district of Whitton, West London. He attended Westminster School and Trinity College, Cambridge but did not stay long enough to earn a degree. He then studied law at Grays Inn, London but again left those studies before they were completed. By this time though he was a wealthy man, his father having died and left him considerable estates. Then began his spell of office in the Low Countries but he was back at Court two years later to renew his acquaintance with a life of pleasure. He spent many a morning perfecting his bowling style or playing card games and it said that he invented the game of Cribbage.
His poetry was enjoyed at court but none of it was published until after his death. He also wrote plays that were performed on stage, a notable example being Aglaura, in 1638. Although the play was not a great success in itself it did include one of Suckling's most famous poems, Why so pale and wan, fond lover? Here are the verses from that poem: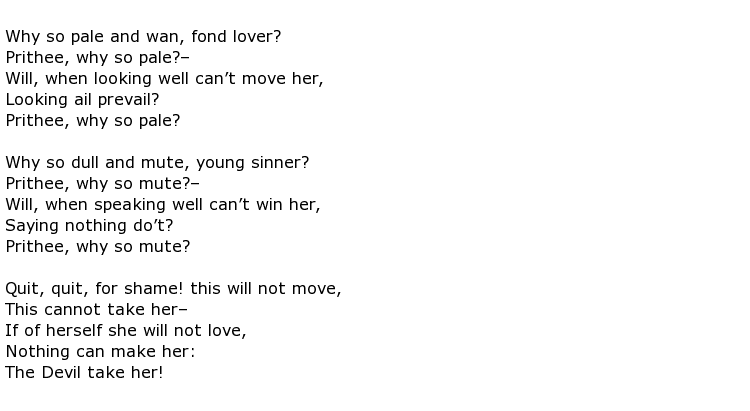 He was certainly a poet with no real interest in serious writing or publishing fame. His work is lyrical and stylish and was very popular at the time, but it could never be placed alongside great English writers such as Thomas Carew or Ben Johnson, both contemporaries of Suckling at that time. He even dabbled in politics, winning a seat in Parliament for a very short time before it was dissolved.
His military career was undistinguished and he was part of a failed campaign with the King in 1639 were the English were defeated by the Scots. He liked to dress his troops in bright colours – usually scarlet – and this flamboyance caused him to suffer a great deal of ridicule. In 1641 he was part of a Royalist plot to rescue the Earl of Stafford from the Tower of London and, because of this treasonable act, he was forced to flee the country. He reached Paris but lived for only a matter of months.
There are conflicting stories about how and when Suckling died. One theory is that he was injured deliberately by a servant who placed a nail or some sharp object in his boot and the infection that resulted from this wound eventually killed him. The other story was that he took poison and thus committed suicide, possibly as a result of losing his fortune through various means. It is possible that the servant who wounded him stole all of his master's important papers and money.
Some accounts say that Sir John Suckling died around May 1641 while others place his death some time during the following year. He was no more than 33 years of age when he died.