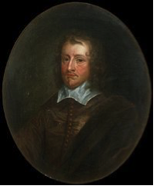 Sir Richard Fanshawe, 1st Baronet was a prominent 17th century English poet, politician and diplomat. Between the years 1661-1666he was a Privy Councillor serving in the House of Commons. During the Civil War he took the Royalist side and was a staunch supporter of King Charles II during the hostilities and he remained so later, when the king was in exile. Besides his parliamentary commitments and numerous statesman appointments, he found the time to be a poet and occasional translator of Latin works into English.
He was born in the early days of June, 1608 at a grand residence called Ware Park in Hertfordshire, not too far from London. His father was Sir Henry Fanshawe who held the ancient title of Remembrancer of the Exchequer, thus making him an important legal adviser to the king. Unfortunately, Sir Henry died when his son was only eight years old. At the age of fifteen Richard was sent to study at Jesus College, Cambridge and, three years later, was admitted to the exclusive barristers Inner Temple in London.
Opportunities for prestigious foreign service soon followed with the post of Secretary to the Embassy at the Court of Spain coming in 1635 followed by Chargé d'Affaires. At one point during the Civil War he was charged with raising money in Spain on behalf of his king. Although this was, ultimately, a failed mission the king elevated him to the baronetcy in gratitude for his efforts.
Fanshawe married in May 1644, his bride being Anne, the daughter of Sir John Harrison. Like her husband she had literary talent and wrote a memoir of her own life though it is not clear if this was for publication or not.
He became a baronet in 1650 and then took up the duties of Secretary of State in Scotland. His knighthood came ten years later while serving at Breda, in Holland as Latin Secretary and Master of Requests for King Charles. His loyalty to the crown was not forgotten after the Restoration with a number of high level appointments coming his way including ambassador to Portugal and then Spain.
Sir Richard is known for his translations of works such as Giovanni Battista Guarini's Il pastor fido, which translates to The Faithful Shepherd. This was published in 1647 with a second edition, including "divers other poems", following a year later. He also inserted his own version of Virgil's Aeneid, written in Spenserian stanza form. His work on Os Lusíadas of Camões (The Lusiad of Camoens), which it is believed was circulated around 1655, was the first known English translation of this piece and is generally thought to be "the great work of his retirement" during the Protectorate.
Perhaps he barely found the time to write poetry and it is true that his poetic output was relatively slim. An example is reproduced here. It is a tragic piece on the short life and death of a flower. It is called A Rose: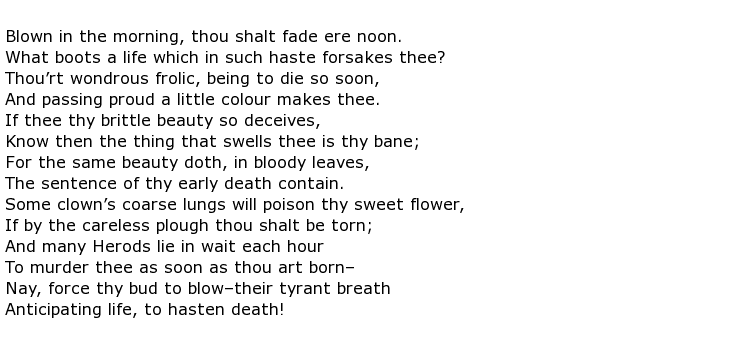 Sir Richard Fanshawe died at the age of 58 on the 16th June 1666 while at his Spanish residence, Siete Chimeneas, in Madrid. His body was returned to England for burial.