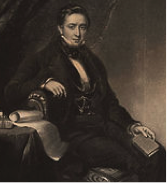 Sir Thomas Noon Talfourd was an English writer, parliamentarian and member of the judiciary who added the letters SL after his name when, in 1835, he became one of the ancient order of barristers that were entitled to call themselves Serjeant-at-Law while serving at the English bar. He numbered famous literary figures amongst his close friends, including Charles Dickens who dedicated his famous book The Pickwick Papers to him.
He was born on the 26th May 1795 in Reading, Berkshire, the son of a prosperous brewer of beer. He had a fairly modest education before being sent to London in 1813 to take up his studies in law under a "special pleader" by the name of Joseph Chitty. Within eight years he was summoned to the bar and he then moved on to the Oxford circuit. He had a successful career as a barrister and judge, succeeding to the position of Judge of the Court of Common Pleas in 1849.
During the intervening years he also made his mark as a politician, spending time as a Member of Parliament at different times. One of his major achievements was to get the Copyright Bill through difficult legislative stages, finally becoming law in 1842 after being blocked by strong opposition a number of times.
While establishing himself in the legal profession, Talfourd wrote a great number of articles to supplement a meagre income, mostly of a legal nature. Pieces appeared in the Edinburgh Review and Quarterly Review as well as the London Magazine, amongst others. He secured a position as law reporter on The Times newspaper. He built a growing reputation as a writer.
One of his most famous pieces was connected with a legal incident where he acted in defence of a publisher and author called Edward Moxon who was charged with blasphemy in connection with Percy Bysshe Shelley's poem Queen Mab. Moxon lost his case and was forced to expunge the offending parts of the poem from his book. Talfourd published his:

His own poetry included a number of tributes to other poets, including his good friend Dickens. Here is a verse called On His Oliver Twist: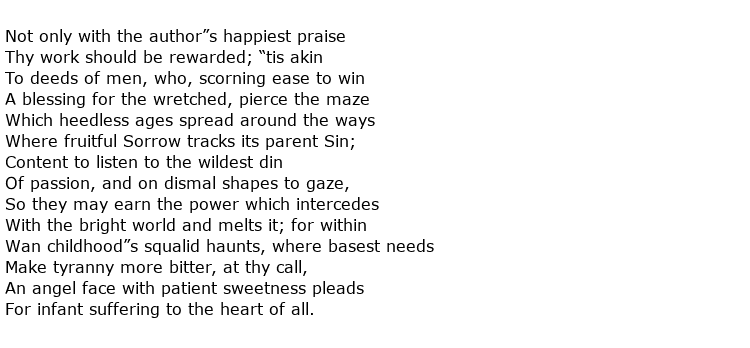 Talfourd had some of his work acted out at London theatres including a Greek tragedy called Ion, which appeared at Covent Garden theatre in 1836. This was very well received in London, and also when it was transferred to the American stage some years later. He wrote a historical piece about the Scottish Macdonald clan in 1839 called Glencoe, or the Fate of the Macdonalds, and this was also staged, this time at the Haymarket the following year.
Sir Thomas Noon Talfourd died on the 13th March 1854 following an apoplectic seizure sustained while sitting on the bench at Stafford, midway through his address to the jury. Charles Dickens attended at his funeral.