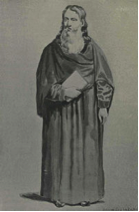 St Nerses the Gracious was a 12th century Armenian poet, hymn writer and priest. He is known by other names, such as Nerses IV the Gracious, Nerses Shnorhali or Nerses of Kla.  His great desire was to unify the Christian faiths through his teaching and his writing and the name Shnorhali was given to him because of his irenic style and quality of writing. He wrote several volumes of poetry, many letters and a number of theological works, including hymns.
Doubt surrounds the year of his birth, with some accounts suggesting the year 1098 while others say he was not born until 1102. His family were Armenian nobles called Pahlavuni and his place of birth was somewhere close to what is now known as the Turkish city of Aintab, a place in the south eastern Anatolian region. Nerses lost his father while quite young and he and his older brother were sent to live with an elderly uncle called Gregory II the Martyrophile. This man was the Catholicos of the Armenian Apostolic Church, and thus a highly influential character. The two boys were soon placed in a monastery to study theology.
Due to his privileged family circumstances, Nerses found himself being ordained as a celibate priest while still only seventeen years old and he rose to the position of bishop by 35. Later he emulated his great uncle Gregory and his older brother by becoming Catholicos, and his primary aim was to see a reconciliation between his church and the Eastern (Greek) Orthodox church. Emissaries of the Byzantine Emperor oversaw the negotiations but the attempt failed. Despite this he was eventually granted sainthood by both the Catholic and Armenian Apostolic churches.
Nerses retained the position of Catholicos into his 70th year before following tradition and nominating another member of his family to succeed him. In the event his first choice failed in his attempt to gain the position but another family member, who had powerful backing from Prince Mleh, succeeded.
In addition to his tireless diplomatic efforts on behalf of his church and emperor, Nerses was a prolific writer. Most recognise Vipasanoutyoun, his novel written in poetic form, as his greatest literary achievement. Another epic project was to reproduce the Bible, again in poetic form, and this was published under the title Hisous Vordi. It has since been translated into English with the title Jesus Son.
Nerses was certainly a great teacher and had strong views about how his Christian flock should behave. He wrote a strong piece on pastoral theology called Toukht Enthanrakan, offering clear guidance to everyone who read it. This is widely considered to be an important historical view of how the Armenian Apostolic Church looked at that time, detailing its hierarchy and offering an insight into the daily lives of the Armenian people.
He wrote many daily prayers and some were so influential that they were translated into at least thirty two different languages. Here is an example – the opening verses to a piece called Morning Song: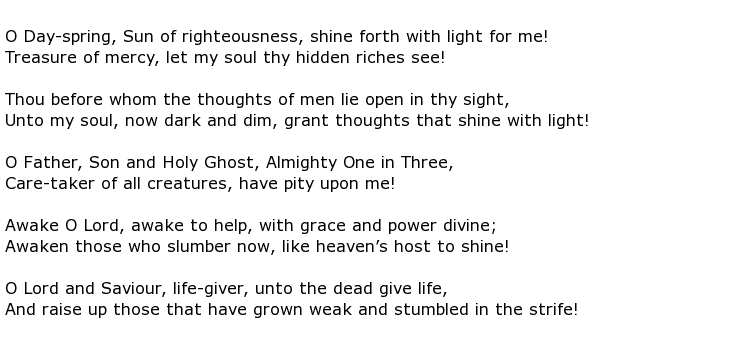 St Nerses the Gracious died on the 13th August 1173 in his early seventies