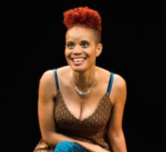 Staceyann Chin is a Jamaican-born poet and performing artist who campaigns vehemently on behalf of LGBT issues.  She has been openly gay since arriving in the Brooklyn district of New York City and has appeared on television shows such as the Oprah Winfrey Show where she recounted her struggles growing up in the Caribbean.  Her poetry has been published extensively in book form as well as in publications such as The Washington Post and The New York Times.
She was born on Christmas Day, 1972 in Jamaica, of Afro-Jamaican and Chinese-Jamaican descent.  She grew up realising, at an early age, that she was gay, and with her mother being absent she was brought up by her grandmother.  She had to keep her sexuality under wraps at first but proudly declared herself a lesbian on arrival in the United States.  Since 1998 she has described herself as an



Chin's published collections began with a chapbook called Wildcat Woman.  Other titles include Stories Surrounding My Coming  and her work has appeared in numerous anthologies of poetry such as Cultural Studies: Critical Methodologies and Taxis and Tampons.  She also wrote an autobiographical novel in 2009 called The Other Side of Paradise: A Memoir.
As well as her extensive output of written words, Chin has revelled in putting on one-woman performances of her work at theatres on and off-Broadway.  She is often an outspoken performer and is very popular, especially amongst the LGBT community.  In 2009 she was part of a documentary feature film called The People Speak which, as the title suggests, is all about ordinary people telling their stories of everyday life, reading extracts from diaries or letters, sometimes with musical accompaniment.
Some of her poetry is in a similar vein, a good example being a piece called If only out of vanity.  It's a pensive look into her possible future, one of being grateful for those times when she could rage against political and social injustice, while having full control of her bladder.  She muses on how life might have been had she taken employment in a bank or a geriatric care home, tending to the needs of the old and frail;  those who no longer have any control of their lives.  Here are the opening verses to this poignant poem: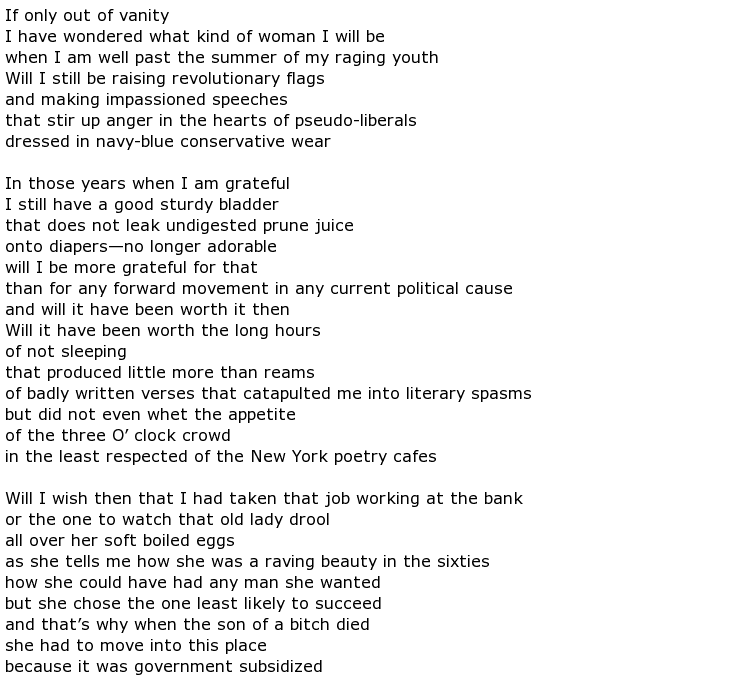 Her work has been described in some quarters as self-mocking and non-conforming.  She might be proudly lesbian in her outlook but it does not stop her writing lines like



She seems to be keen on confronting all aspects of society in turn, never afraid to voice her opinions.  On stage she delivers her work passionately, one critic describing her performances as:



Chin has won many awards such as the 1999 Chicago People of Colour Slam and, the previous year, the Lambda Poetry Slam.  She appears on stage and television often in the United States but has also performed around Europe and in South Africa.  Despite a busy schedule she found the time to become pregnant using the in-vitro fertilization technique which produced her daughter in January 2012.
Now in her early forties, Staceyann Chin teaches at the Brooklyn Saint Ann's School.