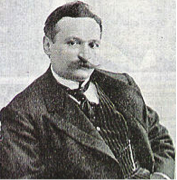 Tevfik Fikret was an Ottoman poet, magazine editor and school teacher. His literary achievements were so significant that many consider him to be a great reformer of Turkish poetry, as well as being the founder of the modern school. He was known as "the freedom poet" because of his opposition to the ruling Sultan.
He was born Mehmed Tevfik on the 24th December 1867 in Istanbul into very difficult circumstances. He barely saw his father, a man who had been exiled by the government for his political views. His mother, who was a Greek Muslim convert, died while he was very young. Despite this he was able to attend a good school, graduating from the Galatasaray High School in 1888 with high grades.
Two years later he was married and was teaching at his old school but he left there in 1894 and began teaching at the Robert College, another prestigious location on the Bosphorus, in 1896. Perhaps like his father, Tevfik was often at odds with the Ottoman authorities and his controversial writing found him being taken into custody several times. He had associations with a number of political opponents of the ruling Sultan Abdul Hamid II, some of whom were also writers. One of these was his friend Halid Ziya Usaklıgil. None of this stopped him writing though and, using the pseudonym Tevfik Fikret, his poetry was said to



Like so many others, his first foray into published work came about when he set up his own literary magazine. This was called Malûmat and first appeared in 1894 and his work got him the post of editor in chief of another publication, the Servet-i Fünun magazine. One of the aims of this was to simplify the Ottoman language and associates on this project included Hüseyin Cahit Yalçın, Mehmet Rauf and his old friend Halid Ziya Usaklıgil. All of these were well known and influential figures in Ottoman literary circles.
The Young Turk Revolution saw great political changes in the country and Tevfik published a newspaper called Tanin which was on the side of the Committee of Union and Progress (CUP), the new ruling party. As time went by though he became disillusioned with their political direction and returned to Galatasaray High School and took up an appointment as principal.
Much of his poetry had an angry tone to it, rebelling as he did against the old ruling classes. A good example is a piece called Haluk's Credo; in it he refers to the ancient and repeating cycle of violence and bloodshed, referring to it as "this graveyard existence". The poem is reproduced here: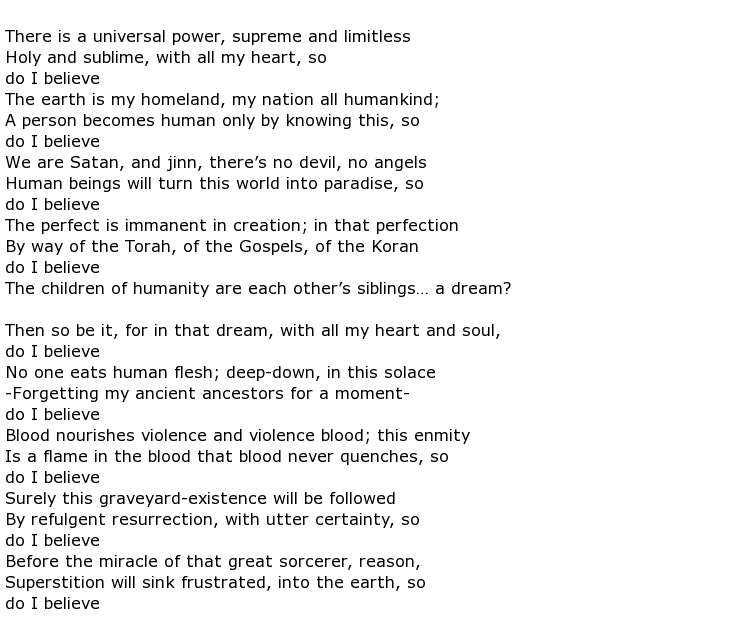 Published volumes of poetry included Rubab-ı Şikeste ("The Broken Lute"), collection published in1900, and Haluk'un Defteri ("Haluk's Notebook") in 1911. It seemed that he had settled into a relatively happy life back at his old high school and even had plans for the establishment of a new school and new literary projects. Unfortunately he suffered from diabetes and neglected to seek treatment for it, and his health soon deteriorated.
Tevfik Fikret died on the 19th August 1915 at the age of 47.