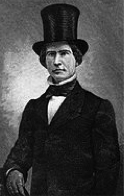 Theodore O'Hara was a 19th century American poet, lawyer, civil servant and long-serving army officer who participated in both the Civil War and the Mexican-American War. Not surprisingly, his best known poem was one about military conflict called Bivouac of the Dead. Words from this can often be found on gravestones throughout the country.
He was born on the 11th February 1820 in Danville, Kentucky. The family moved to Frankfort but Theodore returned to his birth place to attend Centre College. He then moved on to the St. Joseph Academy in Bardstown and, during his senior year, he was a professor in Greek. He was interested in the law and was admitted to the bar in 1842 after studying alongside a future Vice President of the United States, one John C. Breckinridge. He soon found though that a career as a lawyer was not for him and took up journalism three years later. That same year he obtained a civil service post with the US Treasury Department.
Within a year the US was at war with Mexico and O'Hara served the army with distinction, winning the rank of brevet-major on August 20, 1847. Following an honourable discharge the following year he moved to Washington D C where he practiced the law until 1851. He supported the concept of expansion into Latin American countries and joined the so-called "filibusters" on an expedition to Cuba, with the aim of ousting the ruling Spanish authorities. Serving as a Colonel, he took part in a fierce battle at Cárdenas which was unsuccessful and the wounded O'Hara managed to get back to Florida safely.
He was working as a journalist for the Frankfort Yeoman, a Kentucky paper, but then became one of the founders of the Louisville Times, an organ used to spread propaganda on behalf of the Democratic Party. He was tempted back into the filibuster campaign in 1853, joining another failed expedition to Cuba. On his return he was back in the army again but resigned within a couple of years under threat of court martial for drunkenness.
As the Civil War broke out in 1861 he joined the Confederate Army and, amongst others, he served as a Colonel under his old friend John C. Breckinridge, now a General. His time was relatively successful although he failed in his attempts to rise up the chain of command. He followed this with attempts to establish himself in the cotton plantation business but failed in this venture.
His literary success owes much to his famous poem Bivouac of the Dead and it is believed that he wrote it shortly after a civil war battle. It was first published in the Frankfort Yeoman but it soon became nationally famous and many military grave stones of Confederate soldiers eventually bore an inscription containing lines from the poem. When O'Hara's own remains were re-interred with military honours at the Frankfort State Cemetery, a former colleague read out the poem, saying:

The second quatrain is the one most quoted, and here it is:
Theodore O'Hara died on the 6th June 1867 on a cotton plantation near Guerrytown, Alabama, at the age of 47.