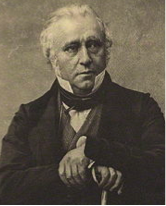 Thomas Babington Macaulay, also known as the1st Baron Macaulay PC, was a 19th century poet and historian who wrote a number of books on British and Roman history that critics have declared to be literary masterpieces. Alongside his considerable achievements as a writer Macaulay served as a government minister in two separate posts when the Whig party were in office.
He was born on the 25th October 1800 in the small Leicestershire town of Rothley Temple. There was a strong religious element in his family with his father the son of a Presbyterian minister from the Hebrides and his mother a Quaker. They were both very much against slavery and his father had a close association with abolitionist William Wilberforce. They raised nine children with Thomas being the eldest and he was, by all accounts, quite a gifted child. At the tender age of eight years old he started out on his long journey of historical writing with a compendium of universal history. He also composed a poem in a romantic, narrative style called The Battle of Cheviot and this has been compared to the work of Sir Walter Scott.
He was educated at a private school in Hertfordshire and then entered Trinity College, Cambridge at the age of 18. After graduation he retained a fellowship at his college (for a further 13 years) and was known for his genial company amongst brilliant academics. His first exposure to the public as a writer came in 1825 when he had an essay on the poet John Milton published in The Edinburgh Review. This was very well received and so began his journey on the road to becoming a famous writer.
There was a possibility that he might have become a lawyer having been called to the bar in 1826 but he had political rather than legal ambitions. Initially he made a living from teaching and writing until, in 1830, he was elected Member of Parliament for the Wiltshire town of Calne. He served in India between the years 1834-38 and he used his political influence to "westernise" the customs and people of that country, helping to introduce vast improvements to the education system there. He thought that English was the language that all Indians should speak and he was particularly scathing about much of Indian and Persian culture in general and the Sanskrit language in particular. He saw Britain as the epitome of a civilised country and it was his duty to help bring others up to their level, if possible.
He followed this with a spell as Secretary of State for War, a post he held for two years, and he was sworn into the Privy Council at the same time. He was then Paymaster-General (1846-48). Macaulay certainly made his mark as a strong-willed, persuasive politician whichever field of society he happened to be addressing at the time. His political life ended when he resigned his seat in Edinburgh in 1856 following a heart attack. The following year he was made Baron Macauley of Rothley.
Somehow though he found the time to write a great deal, especially on historical subjects, and one of his most famous pieces of poetic work was a collection of narrative poems called Lays of Ancient Rome. This recounted great heroic deeds such as those performed by one Horatius Cocles. Here is an extract from the poem Horatius: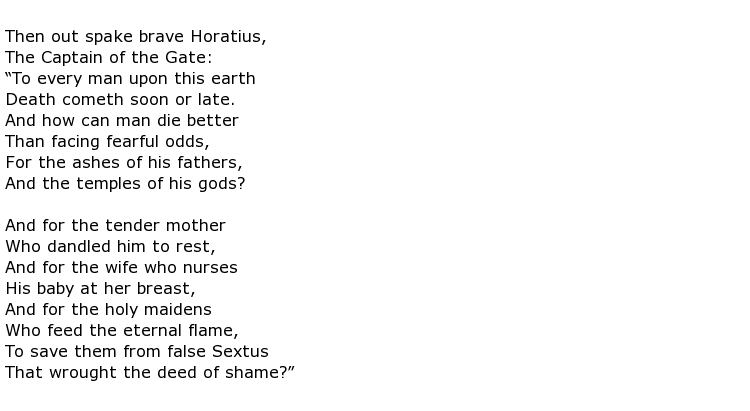 He was also fascinated by British history and published a number of titles including his famous The History of England from the Accession of James the Second, the first two volumes of which were published in 1848. He was still working on updating this major piece of work right up to the time of his death.
Thomas Babbington Macaulay died on the 28th December 1859 at the age of 59.