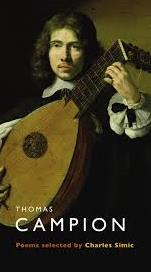 Born in 1567 in London, Thomas Campion was a prolific poet, talented musician and composer who was very popular during his lifetime. His poetry and music were closely interlinked and he wrote a number of pieces for songs and masques, playing a small but important part in the history of literature in England.
His early life was influenced by the low mortality of the time. His father died when Campion was about ten years old and, though she married again shortly after, his mother passed away too, leaving the young poet under the wing of his stepfather Augustine Steward. At the age of 14, Campion was sent off to Cambridge with his sister, rarely returning to the family home for vacations.
In 1584, Campion left Cambridge and later enrolled in law school at Gray's Inn which was not so much a place of legal learning as a springboard and community for the artists and writers of the age. Campion took a full part in that life, moving in 1594 to St. Dunstan's-in-the-West where many musicians resided. Details of his life at this time are fairly sparse but he may have taken part in the siege of Rouen and studied medicine, taking up a medical practice on graduation.

His work began to appear in publications around 1591 with five unattributed poems contained in Astrophel and Stella by Sir Philip Sydney. His next work was published in Latin and was called Thomae Campiani Poemata and contained the incomplete but epic poem Ad Thamesin about the English success against the Spanish Armada.
In 1601 he worked with Philip Rosseter to produce A Book of Ayres for which he provided the words and which achieved moderate success. It marked his move from writing standard poetry to composing verse set to music. The work will have come to the attention of King James as Rosseter was the royal lute player and would have performed it for the court. A Book of Ayres contains some of Campion's best known verses including I Care Not For These Ladies.
Up until the publication of A Book of Ayres, Campion had not written much of note but seemed, by 1601, to have found his niche and began to produce works more regularly. Moralistic and full of human frailties, his lyrics contained a good deal of religious overtones.
In 1607 he turned his hand to writing a masque for Lord Hay that was performed in the plush surroundings of Whitehall Palace. A few years on, Prince Henry died suddenly of typhus and Campion was tasked with composing his Songs of Mourning and later, on a happier note, verses for the marriage of the Princess Elizabeth.

Campion also published numerous works on the writing of poetry and several additions to the Book of Ayres, which were often sung at royal occasions for the King's pleasure. In 1620, at the age of 53, he died suddenly, possibly from the plague that was affecting London at the time. He was buried in the church at St. Dunstan's-in-the-West on the same day that he died.