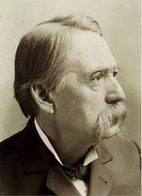 Thomas Dunn English was a 19th century American poet, songwriter, lawyer, magazine editor and politician. His most famous piece of work was a poem whose title is inscribed on his gravestone at Fairmount Cemetery, Newark where it says that he was the "Author of Ben Bolt". He is also well known for a long-running feud with the writer Edgar Allan Poe which, at times, was quite bitter.
He was born on the 29th June 1819 in Philadelphia. He was educated initially at the Friends Academy in Burlington, New Jersey. With ambitions at the time to go into medicine, possibly specialising in phrenology, he studied at the University of Pennsylvania School of Medicine, graduating in 1839. But then he took up the study of law and, in 1842 was admitted to the bar in Philadelphia.
Alongside all this though English had a passion for writing, especially poems, plays and stories and, in 1843, his ballad poem Ben Bolt appeared in the New York Mirror and was instantly popular. It was set to music and the song was sung for many decades afterwards. Additionally a race horse, a ship and a steam boat were all named Ben Bolt in English's honour.
The previous year he had published a novel called



which was clearly a temperance themed piece. In February 1845 he produced the first edition of a monthly publication in New York called The Aristidean. This was only the first publication which came under his editorship. Others included Sartain's Magazine and the humorous The John Donkey.
He enjoyed a close friendship with Edgar Allan Poe until a public disagreement over some allegedly scandalous letters written by a female poet to Poe became known. The lady's brother threatened Poe to the extent that he (Poe) requested of English the loan of a pistol to defend himself. It all got out of hand and it appeared that English was siding with Miss Ellet, much to the displeasure of his friend Poe. A fist fight ensued and that was the end of their friendship. Poe claimed that he had given English



a claim denied by his erstwhile friend.
That was not the end of the matter though and Poe criticised English's work, stating in writing that he was



The feud rolled on for many years and involved much tit for tat criticism and each parodied the other in a number of written pieces of work. At one point Poe won damages in a libel case brought against English.
His political life began when he declared himself an advocate of the annexation of Texas. Later he served as a member, between 1863-64, of the New Jersey General Assembly. Between the years 1891 to 1895 he was a Democrat member of Congress, including a spell as chairman of the Committee on Alcoholic Liquor Traffic, during the Fifty-third Congress. This ended when he failed to be re-elected to the Fifty-fourth Congress.
Afterwards he went back to writing which he continued until his death. There was a partial reconciliation with Poe when his former friend was accused of drug use. He defended him against these charges, considering that they were nothing more than baseless slander.
As mentioned above, perhaps English's most famous poem is Ben Bolt and here are the first two verses: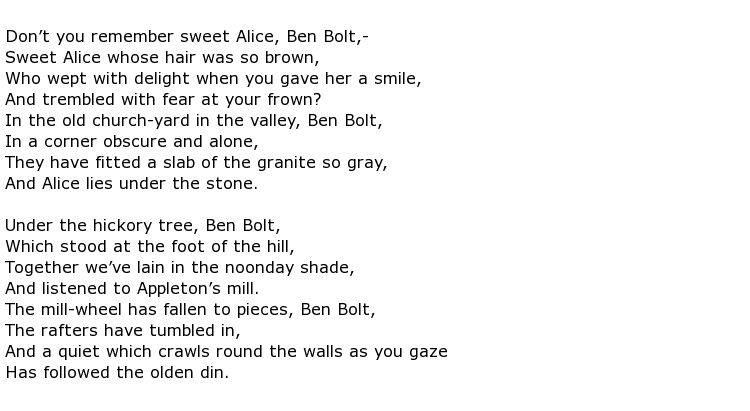 Thomas Dunn English died on the 1st April 1902 at the age of 82.