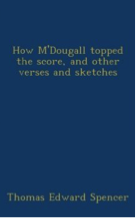 Thomas E Spencer was an English-born, Australian poet, building contractor and stonemason.
He was born Thomas Edward O'Brien on the 30th December 1845 in the East London district of Hoxton. His father, Daniel O'Brien, was a cabinet maker. Thomas eventually took the name of his mother's second husband, a stonemason also called Thomas Edward Spencer. There is nothing of note recorded about his early years other than that he tried his luck in Australia at the age of 18, accompanied by his brother. The pair of them hoped to make their fortunes in the newly discovered gold fields, but failed to do so. Thomas was back in England within a year, joining his step-father in the stonemasonry trade.
At the age of 24 he was married and decided to call himself Thomas Spencer from then on and, six years later, the couple migrated to Australia, settling in Sydney. He soon put his practical skills to work and worked his way up in the building trade until he eventually won a number of government contracts. These included work as diverse as improvements to Sydney's sewage system and the building of a physics laboratory at the city's university. Unfortunately Mrs Spencer died five years after they arrived in the country leaving a son behind and, in 1882, Spencer remarried.
He tried to gain election to the New South Wales legislative assembly in 1894 but was unsuccessful in this political venture. He decided then to concentrate on writing and industrial arbitration. He served as a representative on a number of employers' bodies. During the period 1907-11 he was in constant demand, settling disputes on various wages boards and achieving much success as he had a keen sense of justice.
In addition to his building skills, he was an accomplished poet and short story writer. His work was first seen in the Sydney publication The Bulletin from about 1891 onwards and one of his most famous pieces, published in the Bulletin Reciter in 1901, was How McDougall Topped the Score. This was a jaunty piece about how a local cricket hero, against all the odds, went into bat at a critical point in the match against their arch-rivals from Molongo. He promptly made the winning score. Here are the first two verses: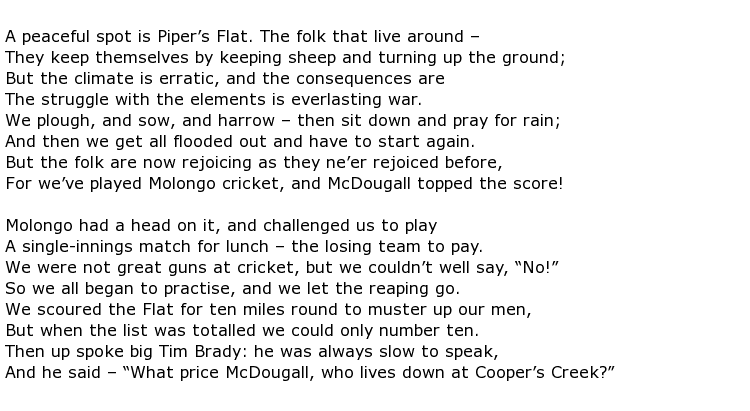 Cricket was, of course, a popular sport in Australia, and still is. The poem was taken to the hearts of many readers and Spencer included it in a collection of his work called How McDougall Topped the Score and other Verses and Sketches, published in 1906. Two years later he brought out Budgeree Ballads although this was reprinted in 1910 under a different title – How Doherty Died. Spencer was known for his humorous titles, examples being short story collections like The Surprising Adventures of Mrs Bridget McSweeney which came out in1906. He followed this up with That Droll Lady : Being the Further Adventures of Mrs. Bridget McSweeney in 1911. A much more serious publication appeared in 1912 called Bindawalla: An Australian Story.
Spencer was known for his "bush ballad" style of writing and, like many other Australian writers around in the early 20th century, he was popular amongst his readers but did not get much critical acclaim for his efforts.
Thomas Edward Spencer died at home in Glebe, Sydney on the 6th May 1911. He was 65 years old.