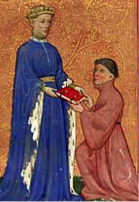 Thomas Hoccleve, whose name is sometimes spelled Occleve, was an English poet of medieval times who also served his king in a clerical capacity. From the young age of twenty he was appointed to a position in the Office of the Privy Seal, this being possible because of his knowledge of French and Latin, and it is believed that he also worked as a scribe at some point.
He was born some time during the year 1368, possibly in the Bedfordshire village of Hockliffe. As was customary in those days, his family name may have come from their place of domicile, the spelling being adjusted over time. The year of his birth is suggested in a piece that he wrote in 1421 called Dialogue, 1.246 in which he said that [by then] he had seen


His clerical position in the Office of the Privy Seal was an intermittent one, in which he was never truly happy, and yet the job lasted for at least 35 years. Occupational pensions did not exist in those days and Hoccleve hoped that the church would grant him some kind of financial reward in the form of a "benefice", for services to both King and church, though none was forthcoming. However, when King Henry IV was crowned in 1399, he received an annuity in recognition of his services as both clerk and poet at the royal court.
Records of his work are, understandably, a little unclear but it is believed that his first poem was dated 1402. It was called



In 1406 he wrote a "mock-penitential" piece called La Male Regle which has been described as one of his most



and appears to give some insight into his younger days where he, perhaps, over-indulged at times in pleasures of the flesh.
In his late thirties and into his forties he seemed to settle for more serious work, usually of a moral and religious nature. Just before Henry V was crowned he produced an elaborate piece of work in the form of a homily, covering popular virtues and vices. This book, called Regement of Princes or De Regimine Principum, became one of his best known and the illustration at the beginning of this article shows Hoccleve presenting it to his king. Within the book is commentary on the House of Lancaster's claim to the English throne; a long poem illustrating typical life as seen from a London tavern and a call to a dissident nobleman by the name of Sir John Oldcastle to



Literary critics through the ages have sometimes compared the work of Hoccleve with that of Geoffrey Chaucer and it is known that he greatly admired Chaucer's work. He refers to Chaucer as "my worthi maister" and mentions him in a number of his poems. Lament For Chaucer was his tribute to the great man after his death. Here is the poem: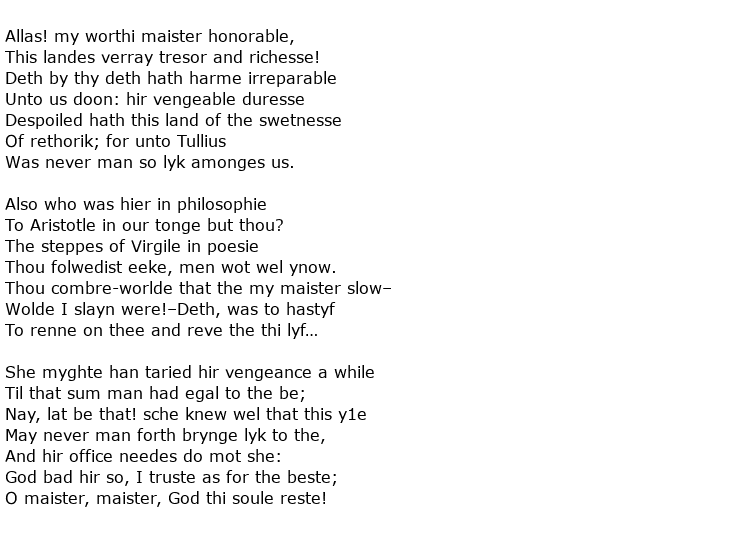 Hoccleve was forgotten for a while but is now considered to be one of the key writers of his time. His detailed insights into the life of a civil servant, serving the House of Lancaster kings, are a worthy contribution to the literature of the time and give the reader much information about the religious and moral challenges of that time. He wrote in a relatively simple and sometimes self-deprecating style.
Thomas Hoccleve died in early March 1426, at the age of 58.