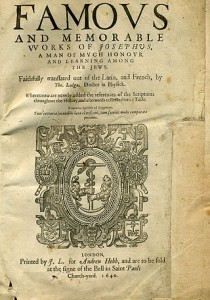 Born around 1558 in the West Ham area of London, Thomas Lodge was an Elizabethan writer who is often considered one of England's earliest satirists with works such as A Fig for Momus. Lodge was raised in an educated family – his father was Lord Mayor of London – and he went to Merchant Taylor's School before progressing to Oxford University.
There he studied for his BA and graduated in 1577 before going onto to complete an MA and becoming a part of the law courts at Lincolns Inn. Whilst at university he had been more interested in writing and his first literary work, Defence of Poetry, Music and Stage Plays was published during this time.
Although the initial pamphlet was banned, it was circulated privately and was followed by a more conventional prose work, The Delectable History of Forbonius and Prisceria. In 1580 he wrote and published a collection of poems under the title of Glaucus and Scilla and is thought to have married his first wife in 1583.
For the early part of his career, Lodge was trying to write, largely unsuccessfully, plays for the London stage, much to the chagrin of his family who thought he should pursue a more acceptable career such as law. He is credited with writing a number of anonymous works at this time and also working with popular author of the day Robert Greene.
During the 1590s, Lodge took to traveling, first to the Azores and the Canaries with expeditions under Captain Clarke and then Brazil and the Americas, often using the dull on board life of the voyage to compose works of prose and poetry. He may have written his originally lost work Sailor's Kalendar at this time, which contained tales of his adventures whilst at sea.

On his return from traveling the world, in 1595, Lodge settled for a while in Essex and continued to write but also took up the post of physician after taking a degree in Avignon in France. He produced Wits Miserie and the World's Madnesse at this time and is likely to have written the religious work Prosopopeia. He also chose this moment to convert to Catholicism which, around 1606, led him to leave England to escape religious persecution.
We know that Lodge went back to England four years later as a letter exists to the English ambassador in Paris thanking him for his help in facilitating his return. Although there is evidence that he traveled across Europe during the ensuing years, suggesting that he was acting as an envoy for the court, not much is known about Lodge's life up until his death from this point on.

He is known to have married for a second time to the widow of Solomon Aldred and returned to London to practice medicine. He wrote a number of more serious works including a Treatise of the Plague and an unpublished manual on popular medicine. Lodge finally settled on Old Fish Street in London and died there in 1635. He was buried at St Mary Magdalen Church.