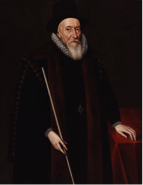 Thomas Sackville, 1st Earl of Dorset, was an English poet, playwright and statesman, serving Parliament and holding the post of Lord High Treasurer.
He was born sometime during the year 1536, the son of Richard Sackville who was a cousin of Anne Boleyn. Educated at St John's College, Cambridge and Hertford College, Oxford he had early political ambitions and found his way into Parliament at the age of 22 as one of the knights of the shire for the north western county of Westmorland. A year later he was elected to serve the constituency of East Grinstead and then, in 1563, he was MP for Aylesbury.
Leaning on his political experience he collaborated with Thomas Norton in 1561 to write a play in blank verse dealing with the consequences of political rivalry. Gorboduc was the first of its kind in English literature. Two years later he was contributing a poem called Complaint of Henry, Duke of Buckingham to The Mirror for Magistrates, an anthology of English Tudor poetry.
Sackville's first major work was a poem called The Induction which was a very sombre piece, heavy in allegory, describing an imaginary journey into the infernal regions of the underworld. The author, making this journey, meets a number of terrifying figures, all capable of inflicting great suffering. It is a poem of great length and here are three verses which describe the descent via this "hideous hole" to the foul depths below: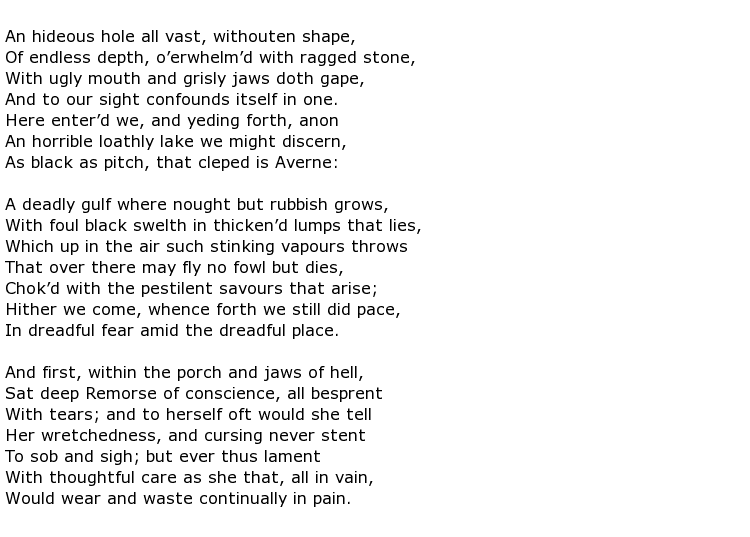 Sackville risked his liberty during a trip to Rome, presumably on government business, in 1566. Sure enough, he was arrested at a time of great tension between the two countries. He was only detained for 14 days though. He was elevated to the House of Lords the following year as Baron Buckhurst and he acted as the Queen's emissary in 1571 in conveying her congratulations to the French King, Charles IX on his marriage.
He also had much less happy duties to perform including sitting on the judges' bench at the trial of Thomas Howard, Duke of Norfolk and then he was required to convey the sentence of death to Mary, Queen of Scots. These were, indeed, grim times for many and Sackville himself incurred the displeasure of the Queen for his occasional "shallow judgement in diplomacy". He was ordered to be detained under "house arrest" for ten months after one incident abroad.
He was made chancellor of the University of Oxford in 1591 and then became Lord Treasurer in 1599, thus establishing himself in favour once again. His activities both at home and abroad made him a very rich man and he acquired a number of properties including the fine mansion called Knole House which is close to Sevenoaks in Kent.
Sackville was a family man, being married in 1555 to Cicely Baker who bore him seven children. When King James I came to the throne he was created Earl of Dorset in 1604. There is very little evidence of any literary achievements in later life, though his output when younger was enough to make him known as a serious writer.
Thomas Sackville died on the 19th April 1608 at the age of 72. He suffered from a condition known at the time as "dropsy on the brain". This is now known as a stroke and it killed him outright while sitting at the council table.