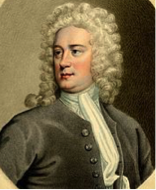 Thomas Tickell was an English poet, politician and man of letters. He was closely associated with the Whig parliamentary party and filled government posts including Under Secretary positions to prominent figures in Ireland. Amusingly some gave him the nickname 'Whigissimus' because of his political allegiance.
He was born on the 17th December 1685 in the small parish of Bridekirk which is close to the Cumbrian town of Cockermouth. His father was a clergyman who sent his son to St Bees School for his secondary education. At the age of sixteen Tickell began his studies at Queen's College, Oxford which led to a Masters' degree eight years later. He was made a Fellow of the college the following year and he followed this with the post of Professor of Poetry.
Tickell was soon on the move, taking up a position in Ireland and marrying Clotilda Eustace in 1726, a lady of noble background who bore him four children. They lived in Dublin for the rest of his life and, by all accounts, it was a happy marriage. Clotilda survived her husband by many years. He had some success as a poet but this could be attributed, at least in part, to his friendship with Joseph Addison who was an established poet, playwright and politician. Addison furthered his friends political career as well as mentoring him as a writer.
Tickell published a book in 1713 about the peace negotiations with long term enemy France, called Prospect of Peace and, two years later he translated the first book of the ancient Greek work the Iliad. This work would prove to be the source of a long-running quarrel with fellow author Alexander Pope who produced his own translation at the same time. Pope was angered by Addison's description of the work. He said that it was "the best that ever was in any language". He (Pope) had assumed that Addison's hand was clearly evident in the work, refusing to acknowledge Tickell's efforts.
He was also working on a long poem which, when published in 1722, received mixed reviews. Kensington Gardens was considered by some critics to be "inflated and pedantic". Here are the opening lines of this extremely long poem: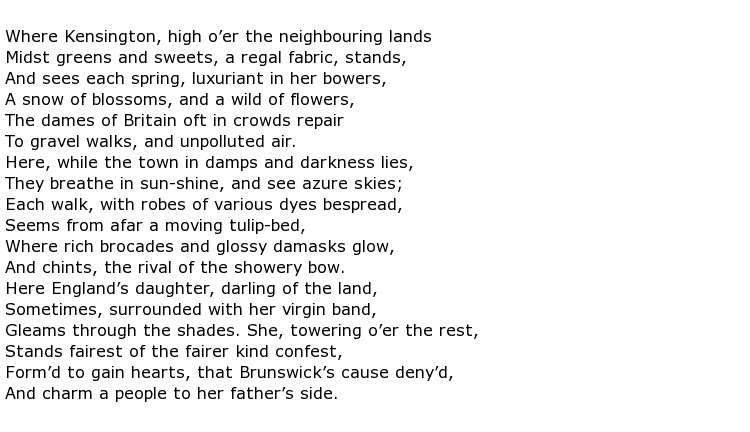 Although Tickell's body of poetic work is relatively small it was, without doubt, influenced by his close association with Addison. Many have said his best work was written after Addison died when he produced a sincere elegy for his friend. He presented the work to Addison's step son, Edward Rich, the 7th Earl of Warwick. It included the following lines:



Tickell occasionally submitted work for publication in both The Spectator and The Guardian. One of his most popular poems, a ballad called Cohn and Mary, was included, along with others, in an anthology of English poets compiled by the Scottish writer Alexander Chalmers.
Thomas Tickell died in Bath, Somerset on the 21st April 1740 at the relatively young age of 54.