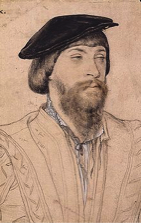 Thomas Vaux was a 16th century poet and nobleman also known as the 2nd Baron Vaux of Harrowden, KB. He had strong royal connections with the Tudor court. His mother, for example, was the maternal aunt of Queen Catherine Parr, the last wife of Henry VIII. This, of course, placed him as a first cousin to the Queen. His court responsibilities included accompanying Cardinal Wolsey on a trip of great significance to France, when the King was petitioning for Catholic support for his decision to divorce Queen Catherine of Aragon, his first wife.
He was born on the 25th April 1509 in the Northamptonshire town of Harrowden. His father was Nicholas Vaux, the 1st Baron Vaux. His education included studying at Cambridge University and, at the age of 18, he was appointed as part of Wolsey's entourage on the delicate visit to France in 1527. It is believed that Vaux privately disapproved of the king's intention to get a divorce but, of course, if he valued his own life he could not admit his true feelings.
Despite these early misgivings his career as a royal courtier and diplomat flourished and he was clearly in favour with the king who made him a Knight of the Bath in June 1533, coinciding with the coronation of Queen Anne Boleyn. Further evidence of his good relationship with the king was that he was chosen to accompany Henry on many State visits, including a trip to Calais in 1537. As well as being a member of the House of Lords, Vaux also served as the Captain of Isle of Jersey for a time.
Medieval courts were, of course, places for artists, musicians and poets as well as politicians and Vaux shared his poetic talents with others of the same persuasion, such as Henry Howard, the Earl of Surrey and Sir Thomas Wyatt. It is hard to ascertain exactly how great an output of poetry that Vaux was responsible for but it is believed that at least two poems attributable to him were included in a 1557 publication called Songes and Sonettes of Surrey. The poems in question were



and another called



A line in the Shakespearean play Hamlet includes a misquotation from this poem by a grave digger.
Another publication, as above not seen until after his death, includes at least thirteen pieces of work signed by Vaux. This was the 1576 publication called Paradise of Dainty Devices. As evidenced in his poem A Quiet Mind, Vaux was clearly a deep thinker and this slightly light-hearted poem is reproduced here. It seems to portray the message that all of our worldly goods are, most certainly, left behind at the time of our death but the contents of an active mind are not lost forever; they can transcend to the next level of our existence, wherever that may be. Here is the poem: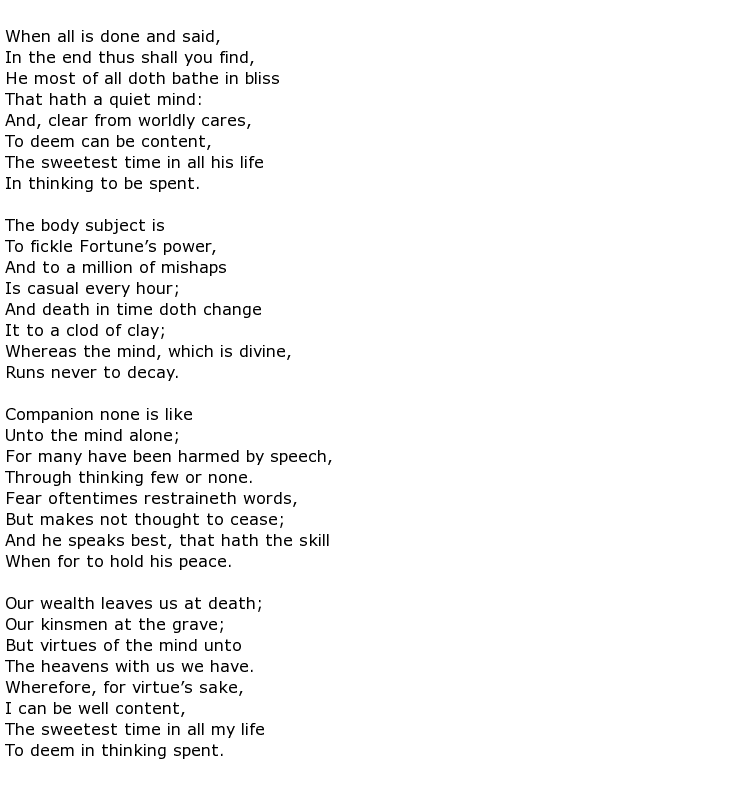 Thomas Vaux died sometime during the month of October 1556. He was 47 years old.