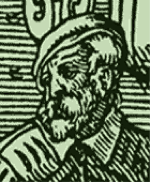 Thomas Weelkes was an English musician, poet and composer of mostly religious themed pieces, including madrigals and anthems. His skill as an organist was recognised first at Winchester College and then at the prestigious Chichester Cathedral.
His date of birth is unclear but it is known that he was baptised on the 25th October 1576 in his home village of Elsted which lies close to the West Sussex town of Chichester. Details of his education are unrecorded but he clearly had a musical and writing talent from a very early age with his first collection of madrigals being published in 1597. For this he was recognised and appointed organist at Winchester College where he received board and lodgings along with the princely sum of 13 shillings and four pence per quarter in payment.
He continued writing and publishing madrigals, two volumes coming out in 1598 and 1600, and two years later he obtained a B Mus degree resulting from studies at New College, Oxford. Around the same time he was appointed organist and informator choristarum at Chichester, effectively becoming the choir master. His earnings increased with this post to the point where he could afford to marry the daughter of a wealthy local family. However, his time at Chichester was not without controversy, with members of his choir frequently being reported for disorderly conduct and Weelkes himself being accused of over-indulgence in alcohol from time to time.
When Weelkes published a fourth volume of madrigals in 1608 he added the inscription that he was a "Gentleman of the Chapel Royal" although records cannot confirm that this was so. His behaviour during the following years could be described as anything but "gentlemanly". In 1616, for example, he was reported to the Bishop of Chichester for being



. Somehow he managed to maintain his position at the cathedral despite often appearing to be drunk at his post and occasionally swearing during services.
As a musician and composer though he was prolific in his output. He wrote many verse anthems for use in the cathedral services and a number of joyful madrigals, which compared markedly with some of his more sombre compositions of consort music. The latter was music composed for ensemble playing. His madrigals have often been compared to those written by John Wilbye and Weelkes will have been inspired by fellow madrigalist Thomas Morley who died much earlier, in 1602.
Here is an example of his work, a lilting piece called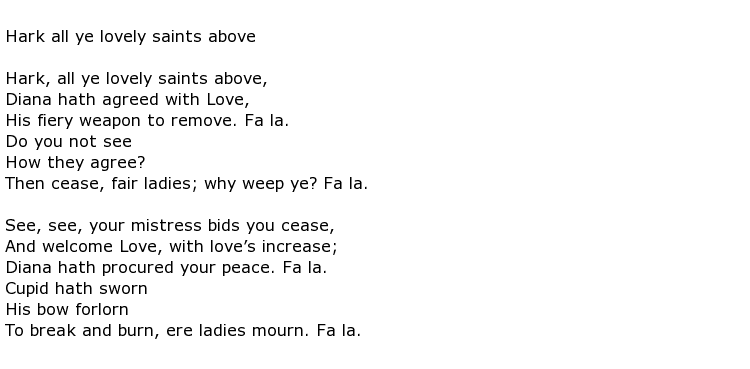 Weelkes was widowed shortly before his own death. His wife died in 1622 leaving three children behind and from then on he was found more often in London than Chichester. It is believed that Thomas Weelkes died at the house of a friend, in London, on the 30th November 1623 at the age of 57. Despite his often unconventional behaviour there is a memorial stone dedicated to him in Chichester Cathedral.