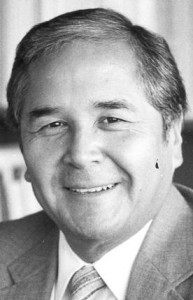 Born in Texas in 1935, Tomas Rivera was a Mexican-American author and poet who was brought up as a migrant farm hand, spending much of his youth toiling in the fields of the Mid-West with his family. He managed to gain a good education despite the fact that his mother and father moved from place to place to secure work.
As a youth he was in a car accident and wrote his first piece of prose about it when he was aged just eleven. It sparked a flame in the young man – he continued to write stories and poetry as he grew up and often dreamed of becoming a sports journalist.
Rivera was greatly encouraged by his grandfather even though he had to endure hardship as a migrant worker. When he joined a college that would not allow him to miss classes because of work, Rivera finally gave up the migrant life and committed himself to a new future.
The young Chicano writer produced a number of works during this early period in his life but, because these were mainly in Spanish, found it difficult to get them published. He continued with his education however and went to university, graduating with a degree in English. He taught for a while in a variety of schools across the Mid-West of America but also continued with his own education, graduating with a PhD in 1969.
After this, Rivera found a position as professor at the Sam Houston State University and gradually began working his way up the academic ladder, eventually becoming Chancellor at the University of California when he was in his forties.

During his lifetime, Rivera wrote a number of short stories, poems and academic treatises. His best known work came out in 1971 and was a short novel titled …y no se lo tragó la tierra for which he received the Quinto Sol publishing award.
The work has been translated into English a number of times and is essentially a novel that is split into a number of smaller stories or vignettes. The most recent translation takes the first story, The Lost Year, as its main title but has also been translated as And The Earth Did Not Devour Him. The novel harks back to Rivera's beginnings as a migrant worker and it is a complex mix of different narrative forms.

Rivera also produced a small number of poetry collections, the most notable being Always and Other Poems. He was not a typical academic and was closely involved in the community around him, working hard to make lives better, particularly for poor migrant folk.
He was on various committees that dealt with education and also served on the Council for Foreign Relations. Even when his work at university turned to mainly administrative jobs, Rivera insisted on teaching and never forgot his migrant labor past.
Rivera passed away in 1984 at the age of just 48 whilst at his home in Fontana in Texas.