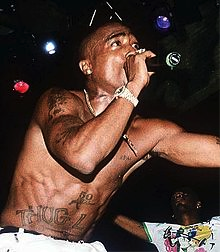 Tupac Shakur, rap artist, actor and poet, was one of the best-selling music artistes ever, selling over 75 million records worldwide. Rolling Stone magazine rated him 86th out the top 100 Greatest Artists of All Time. He was nominated twice in his career; in 1995 for best actor in Poetic Justice and in 2004 for best song – Resurrection.
He was born Lesane Parish Crooks June 16th 1971, the son of Afeni Shakur, in East Harlem, New York City. Both his mother and his father, Billy Garland, were members of the Black Panther Party – a revolutionary party associated with the Black Power civil rights movement in the 1960s and 70s. Shortly before Tupac's birth his mother had been acquitted of charges of 'Conspiracy against the US government'. From early childhood he was surrounded by people, including members of his family, who were involved in and convicted of serious criminal offenses including murder. It is not surprising that his music would reflect his reputation as a leading figure in gangster hip-hop and would allude to violence and cop killing.
Tupac's acting career began when he was twelve when he enrolled with a Street Repertory Ensemble in Harlem and he performed in A Raisin in the Sun. After the family moved to Baltimore he studied acting, poetry and dance at the local School for the Arts. In contrast to his performing of Shakespeare plays he won rap competitions and was a popular student. While here he struck up a lasting friendship with Jada Pinkett (who later married actor Will Smith) and wrote a poem for her called The Tears in Cupid's Eyes which he included in his book The Rose That Grew From Concrete:

Tupac got his big musical break in 1991 with the group Digital Underground, with whom he'd started out as a roadie and backing dancer. His talent as a rapper were shown off in the group's song 'Same Song', which was used in the 1991 film Nothing But Trouble and later in the 2013 movie Battle Of The Year. His first solo album was 2Pacalypse Now which while not proving a great success is credited with inspiring other rap artists like Nas and Eminem. This was also the album which cemented his notoriety and garnered much criticism for its references to police brutality. Tupac said in his defense:

…Nevertheless, the album was certified Gold by the Recording Industry Association of America.
His film career began to take off with an appearance alongside Janet Jackson in Poetic Justice in 1993 but unfortunately his prison career also advanced apace with convictions for assault and sexual assault, culminating in a jail sentence.
Tupac Shakur could have reached great heights of success in his chosen fields, particularly in acting, where his natural ability and charisma showed through on screen, especially in his final film Gridlock'd, released posthumously in 1997.
Tupac was shot and killed in a drive-by shooting in Las Vegas, Nevada, September 13th 1996.