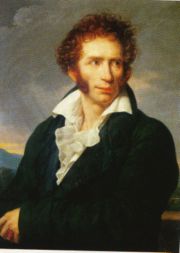 Born in 1778, in Zakynthos, Italian poet, soldier and revolutionary Ugo Foscolo was an atheist who believed in the 'eternal void' and was an illuminist and pre-Romantic known for various translations and his poem Dei Sepolcri. His father worked as a doctor in Croatia but died when Foscolo was just ten years old, an event that then led the family to move to Venice.
Foscolo began his education at the Dalmation School in Venice before heading to the university in Padua, one of the oldest educational establishments in Italy. There he came into contact with Melchiore Cesarotti whose translations of Ossian and Homer had proved quite popular in the country at the time. This influenced Foscolo's literary future, giving him a grounding in the classics of Ancient Greece whilst also awakening his love of modern works.
He was also greatly politicized by the fall of the Republic of Venice in 1797 and began writing the Last Letters of Jacopo Ortis after the Treaty of Campoformio forced him into exile in nearby Milan. He had expected Napoleon to restore the public but was deeply shocked when the emperor handed it over to Austria.
In Milan, now having made friends with the writer Giuseppe Parini, Foscolo turned more to poetry, producing his 12 Sonnets before joining Napoleon's army and taking part in conflicts in Trebbia and Genoa where he was wounded and imprisoned.

When he was at last freed, Foscolo returned to Milan where he finally finished the Last Letters of Jacopo Ortis, also working on a number of translations including Irish novelist Laurence Sterne's A Sentimental Journey Through France and Italy. Perhaps his most famous poem, Dei Sepolcri, was written in 1807 and explores the idea that tombs are important for the inspiration of the living. Even though he was an atheist and an illuminist, he saw these as vital for the future development of mankind and the difference they can make to future generations.
In 1909 Foscolo was honored with the post of chair of Italian eloquence in the Lombardy town of Pavia where he delivered a lecture on the importance of literature in making a new future, a controversial point of view that got the post banned by a Napoleonic decree shortly after. Out of favor, Foscolo moved to Florence for a while before returning to Milan in 1813, staying until the Austrians took control.

He moved to Switzerland and then made for the coast of England in 1816 where he would stay for the next 11 years until his death. He contributed to such periodicals as the Edinburgh Review and wrote a number of dissertations, for a while enjoying some degree of celebrity before financial failings led him to spend some time in a debtor's prison.
This affected his chances in polite society after he was freed and he had made few lasting friendships during his time in the country. Foscolo died in Chiswick in London in 1827 at the age of just 49 and was buried in a churchyard nearby.