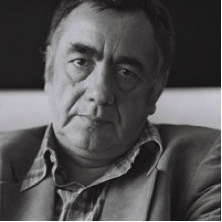 Here is a Serbian poet who grew up at a time of deep unrest across the whole of Europe.  He fought as a partisan during WWII and was captured and interned in a Nazi concentration camp.  Having survived that he lived through the oppressive times that saw communism dominate the whole of central and eastern Europe for decades.  Despite the state's efforts to impose "Socialist Realism" on the writings and thinking of its citizens Popa managed to maintain a style of writing reminiscent of French surrealism and Serbian folk traditions.  He always tried to use humour and paradoxical images to try to make sense of the times that he lived in.
Vasko Popa came into the world in 1922 in the small village called Grebenac, in the district of  Vojvodina, Serbia.  He had a high school education and followed this with studies at the Philosophy Faculty, which was inside Belgrade University.  From here he studied at the University of Bucharest and then in Vienna.   The outbreak of the Second World War interrupted his studies and he enlisted as a partisan, fighting the Nazis until he was captured and interred at the Bečkerek concentration camp.
Fortunately he survived that ordeal and was able to complete his education at the University of Belgrade in1949, graduating from the Romanic group of the Faculty of Philosophy.  Employment as an editor for the publishing house Nolit during the period 1954-1979 followed.  The magazines the daily Borba and Književne novine were to be his first outlets for his poetry.  He finally got a collection published in book form in 1953, and it was called Kora (Bark).
A number of other collections followed between 1956 and the late-1970s including The Golden Apple, or Od zlata jabuka .  This was an anthology of Serbian folk literature and was published in 1978.  Earlier though, in 1972, Popa created "The Literary Municipality Vršac" and began a collection of postcards, which he named Free Leaves, or Slobodno lišće. His Collected Poems, 1943–76, was published in 1978, translated into English, with an introduction by the British poet Ted Hughes.  It is often said that Hughes took some inspiration from Popa's 'folk-tale surrealism, influencing some of his writing later on.  He noted the combination of:

…and a tendency to write in cycles. Hughes summed up Popa's impact on literature as follows:

Here is an example of Popa's work, a poem called Hide and Seek.  It could be an observation of how he saw life under a repressive regime:

Throughout his life Vasko Popa won a number of literary awards including one, in 1976, that honours the Serbian Branko Radičević.   He also received Zmaj's Award (Zmajeva nagrada), an award that was created in honour Jovan Jovanović Zmaj.  Four years after Popa's death the town of Vršac established a poetry prize in his honour.  It is given to the writer of the best Serbian poetry and the ceremony usually takes place on his birthday, the 29th of June.
Vasko Popa passed away in Belgrade on January 5th 1991as the result of cancer aged 68.  To recognise his status as a great Serbian writer his grave lies in the Aisle of the Deserving Citizens in Belgrade's New Cemetery.