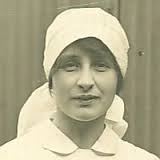 English writer Vera Brittain is probably known best for her novel, which was called Testament of Youth, about her experiences during the WW1  which brought about her belief in pacifism and the tragic futility of war.
She was born on December 29th 1893 in Newcastle-Under-Lyme, Staffordshire, the daughter of well-off parents who owned several paper mills. She had a younger brother, Edward. The family moved north to Derbyshire when Vera was still in infancy but then she was sent to boarding school in Surrey when she was thirteen. Vera was a rebellious child and, growing up was discontented with the lot of women in society. She longed for the freedom which men were given and later said,

Her first chance of liberation came in 1913 when she received an offer of a place at the Oxford college named Somerville  where she would study English Literature, despite her father's disapproval. Her brother was to study here along with his pal Roland Leighton, who Vera swiftly fell for.
In 1914 war broke out and Vera encouraged her brother to join up. At that time, like many others, she was seduced by the perceived glamour of war and later stated:

However this optimism was quickly replaced by a realisation of the horror and futility of the destruction of so many men, a horror shown to her during her service as a volunteer field nurse in the summer of 1915. Her brother, two friends and her fiancé Roland were all killed. These experiences would form the basis of her 1933 novel Testament of Youth, her semi-autobiographical book which would later be made into a film. Vera wrote in an emotional way and her poem Hospital Sanctuary is an example of her style:

After the war ended she resumed her studies at Oxford and immersed herself in the literary scene there. In 1925 she married political scientist George Caitlin and bore two children, one of whom grew up to be Liberal politician Baroness Shirley Williams. During the 1920s and 30s Vera's commitment to the pacifist cause grew and she became a regular speaker at peace conferences. She joined the Peace Pledge Union and the Anglican Pacifist Fellowship. During the Second World War she volunteered as a fire warden and began to speak out against the strategic bombing of German cities and in 1944 she published a book, Seed of Chaos: What Mass Bombing Really Means, in which she wrote powerfully of the senselessness of the policy of saturation bombing. This brought her criticism from both British and American governments, although one military expert wrote of his:

Her vociferous support of pacifism also earned a place in the Nazis Black Book of people who were to be arrested in the event of an invasion of Britain by Germany. Nevertheless she continued her crusade, writing articles for pacifist magazines and becoming an ardent supporter of nuclear disarmament in the 1950s and 60s.
In November 1966 a fall in a London street, in which she sustained several broken bones, precipitated her physical and mental decline. She died March 29th 1970 in Wimbledon, London and her ashes were scattered on her brother's grave at an Italian WW1 battlefield site, as she requested.