Victoria Sackville-West, better known as 'Vita', was a colourful figure throughout the first half of the 20th century. A prize-winning author, she wrote a great deal of poetry along with a number of novels and books about gardening techniques. She passed on many of her gardening tips through a weekly column in The Observer newspaper. When her husband, Harold Nicolson, was knighted she became known, at least formally, as Lady Nicolson. The couple were responsible for designing and establishing the magnificent gardens at their home, Sissinghurst Castle in Kent, which passed into the stewardship of the National Trust following her death. For services to literature she was awarded the Companion of Honour in 1947.
She was born Victoria Mary Sackville-West on the 9th March 1892 at a grand residence in Sevenoaks, Kent called Knole House. She came from an aristocratic line, her father being Lionel Edward Sackville-West, 3rd Baron Sackville, and her family can be traced back hundreds of years. Given the same name as her mother she was soon known as Vita, and this shortened version stayed with her throughout her life.
It was an unorthodox family background though with her mother being an unmarried Spanish dancer so it was inevitable that her upbringing would not be a smooth affair. There was a great deal of financial scandal surrounding her father when he fled to South America, with Vita being sent to Paris for a convent education. Perhaps all of this affected her character during the following years but it soon became clear that she was never going to settle for a "conventional" kind of lifestyle.
When she married a politician and writer called Harold Nicolson in 1913 she had already been indulging in bisexual relationships with a number of people and this would continue throughout her marriage. Both were happy to admit that they had an "open" marriage with Harold also enjoying bisexual relationships throughout. Both fell into the so-called "Bloomsbury Group" of writers and artists and many of their contemporaries had similar lifestyles.
Vita famously had a late-1920s affair with Virginia Woolf and was portrayed as the androgynous main character in Woolf's novel Orlando. The connection was well documented and Vita's son, Nigel Nicolson, described the book as



This was only one of several lesbian affairs that she enjoyed throughout her life. Her own writing career included two very well-known novels – The Edwardians, written in 1930, and All Passion Spent the following year. The main character in the second book was perhaps inspired by her own lifestyle and was adapted as BBC drama in 1986.
She wrote a long, award-winning poem called The Land in 1927 and the same Hawthornden Prize was also won for her Collected Poems of 1933. She became the only writer to win this prize twice. Here is an example of her poetry, a love poem called And So It Ends. One can only speculate about who it was written for: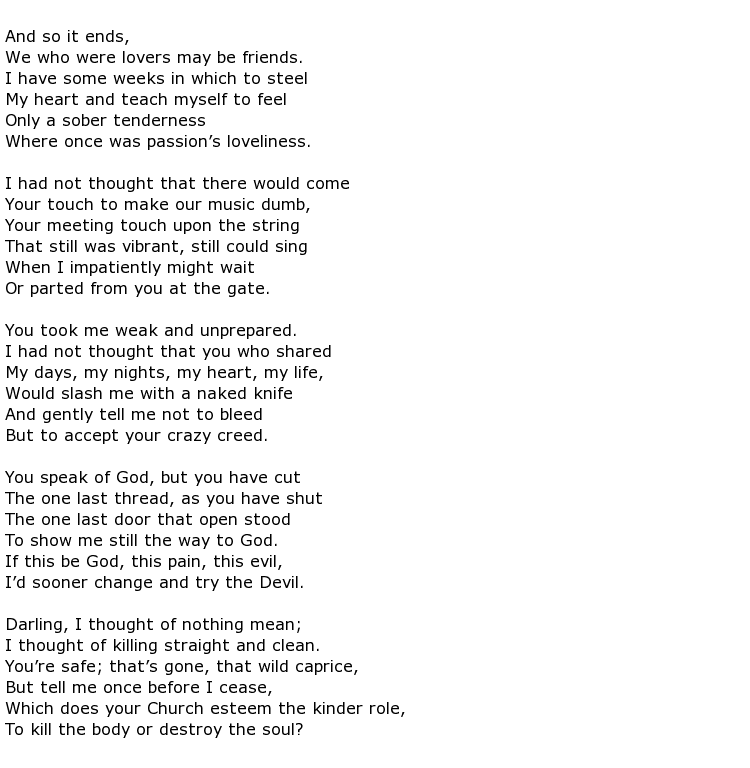 Vita Sackville-West died on the 2nd June 1962 at Sissinghurst Castle. She was 70 years old. Already widowed, the house was formally handed over to the National Trust by her son Nigel. Stories suggest that he was keen to avoid inheritance taxes although Vita had already agreed to the transfer, albeit reluctantly.