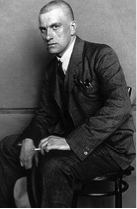 Vladimir Mayakovsky was a Russian poet and playwright who also acted on stage and in films. He was also the editor of a literary journal called LEF. Prior to the 1917 Revolution he was part of the short-lived Russian Futurist movement. His work suggested that he was very much pro-Lenin and pro-Communist Party. He did, however, find himself at odds with their overbearing tendency to censor all fields of Russian culture. He risked all in the 1920s with such satirical pieces as



a satirical swipe at the Soviet system written in 1926. Despite this Joseph Stalin gave him a glowing testimonial following his early death only four years later. He declared that Mayakovsky was



He was born on the 19th July 1893 in Baghdati, a town in the Kutaisi Governorate of Georgia which was a country that was within the Russian Empire at that time. He came from noble stock on his father's side, being descended from Zaporozhian Cossacks, and he considered himself to be Russian, Georgian and Ukrainian due to his varied family history. He was educated at the Kutais gymnasium but the family had to move to Moscow in 1906 when Vladimir's father died of blood poisoning.
Enrolled in a good school he soon became embroiled in Marxist literature, becoming a student of philosophy rather than fiction. Unfortunately his mother could not afford the school fees and he was forced to leave after two years. As his teenage years progressed he became a Bolshevik activist and unfortunately got on the wrong side of the law, resulting in an eleven month prison sentence during the year 1909. Here he began writing poetry while in solitary confinement.
Following this sorry episode he decided to concentrate on art and literature and enrolled at the Moscow Art School in 1911. A chance meeting with another student by the name of David Burlyuk was to be the catalyst for the Futurist Movement in Russia. The group soon grew in numbers and its members were often seen reciting poetry on street corners in a staunch effort to educate the people who had been starved of culture for so long.
In 1912 he began acting at a minor venue in St Petersburg and, that same year, two of his poems were published in the Futurist's Manifesto which was called



The two poems had simple titles: one was called Night, the other Morning. More performances followed, with the group going on tour and performing poetry and skits to enthusiastic audiences wherever they went.
Mayakovsky wrote poetry that was very much "saturated with politics" and one, titled 150 000 000, was his attempt to glorify the one hundred and fifty million Russian people in their attempts to impose revolution on the world. Lenin was, apparently, not impressed with this particular piece although he would later declare his admiration for the writer's work.
One of his most famous poems was a multi-part epic piece called A Cloud in Trousers, which clearly contained an element of self-mockery. Here is the final section, called Epilogue: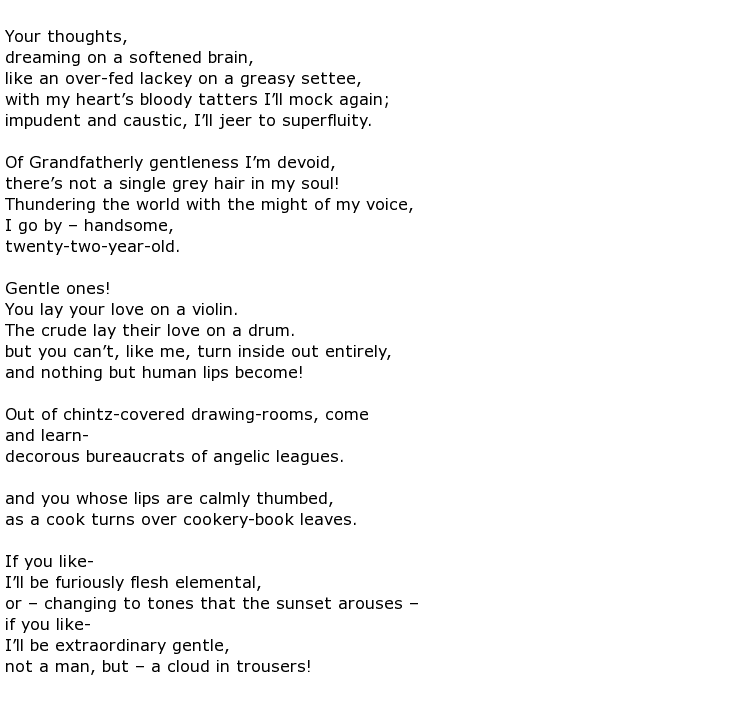 Vladimir Mayakovsky died on the 14th April 1930, aged 36. It was apparently due to a self-inflicted gunshot wound to the heart, his death being recorded as suicide. Controversy surrounded the event though and some witnesses said that there were two shots. Reports suggested that he may have been murdered, possibly at the hands of government assassins.