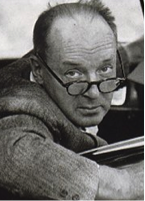 Vladimir Nabokov was a Russian born writer who, at 18 years of age, fled the turmoil of revolution in his country in 1917, finding a safe haven at first in England, the United States. France and finally Switzerland.  He wrote poetry, novels and non-fiction and is probably best known for his most controversial book, published in 1958.  Lolita was the story of a European, middle aged man's infatuation with a 12 year old American girl.  It was a daring piece of work at the time and certainly rocked the establishment on both sides of the Atlantic.  It was a tale told with tenderness and no little humour and became a best seller immediately and has constantly featured in a number of "best novels of all time" lists.
Vladimir Vladimirovich Nabokov was born in April 1899, in the great Russian city of St Petersburg.  His wealthy family were of minor noble blood and the children (there were five of them) grew up in a household where Russian, French and English were all spoken, mirroring that of the ruling Romanov family.  Vladimir was an exceptionally bright child and actually learned to read and write in English before he had mastered Russian.
The October Revolution of 1917 shattered all their dreams and aspirations and the whole family moved to the Crimea where Vladimir's father was a member of the Crimean Regional Government.  As WW1 came to an end the Nabokovs were forced to flee to England.  Vladimir enrolled at Trinity College, Cambridge where he read Zoology and Slavic and Romance languages.  He graduated in 1922 and followed his family who had now moved to Berlin.
There followed a period of constant change with the family moving around Europe but, tragically, without Vladimir's father who had been assassinated in 1922 while trying to protect a leading politician.  He referred to this tragic event a number of times in his novels, with variations on the theme of a character in the story being killed by mistake.  The novel Pale Fire was one such example.
The year 1940 once again found the family fleeing from danger – this time, of course, it was the Nazis who forced them out.  They went to America this time and Vladimir soon found himself employed first as a volunteer at the American Museum of Natural History in New York and later at Wellesley College where he lectured on comparative literature and, eventually, he taught Russian.  He was credited with single-handedly setting up the college's Russian department.
His passion though was as a Lepidopterist and his skills were internationally recognised.  It was actually during a butterfly collecting expedition that he started to write his famous book Lolita.  He finished the novel in 1953 and during a trip to the mountain regions of Oregon he wrote a poem called Lines Written in Oregon.  Here is an extract from it, revealing an easy, flowing poetic style and an obvious love of the great outdoors:


In 1959 he moved to Switzerland and, thanks to the tremendous commercial success of Lolita, he and his wife Véra were able to take a suite of rooms at the Montreux Palace hotel where he remained for the rest of his life.  He loved butterfly collecting in the Alps and, of course, he continued his writing right up the time of his death.
Vladimir Nabokov died on the 2nd July 1977 following a bout of severe bronchial congestion.  His dying breaths were described, by son Dmitri, as "a triple moan of descending pitch".  He was 78 years old.