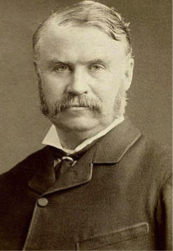 The multi-talented W. S. Gilbert, or to give him his full title Sir William Schwenck Gilbert, was a poet, illustrator, dramatist and librettist whose collaboration with Sir Arthur Sullivan on numerous comic operas (the so-called Savoy Operas) ensures that his name will sit proudly for evermore amongst the true greats of British writers. One could even compare him to William Shakespeare from the point of view that so many of his written words have passed into common use in the English language. Good examples of this are "short, sharp shock" and "let the punishment fit the crime".
He was born on the 18th November 1836 in central London, just off the Strand. It was not an especially happy childhood with his mother and father often quarrelling, and neither were the kind of parent that encouraged closeness from their children. William was given the nickname "Bab" as a baby and he later used this sobriquet when he created the Bab Ballads, these being a collection of poems of a light-hearted nature which he illustrated himself in a comical way. His early education was gained in France and he then studied at two London schools.
He was already showing great theatrical talent at the Great Ealing School where he not only wrote plays but also helped paint the scenery for school productions. College years were spent at King's College London from where he graduated in 1856. He would have liked to have joined the Army but, instead, became a reluctant civil servant for four years before taking a commission with the part-time Militia. He next tried his hand as a barrister but this was short-lived. His true ambition was to be a full time writer and he would go on to have phenomenal success, especially when he joined up with Sullivan.
Their musical collaborations were many in number but, perhaps, the most famous titles were The Mikado, The Pirates of Penzance and HMS Pinafore. Unlike "traditional" operas, these Savoy operas were easy to follow, easy to produce, even for amateur companies, and brought great joy to audiences who enjoyed both Gilbert's witty lines and Sullivan's catchy tunes, and still do to this day.
Gilbert's literary output was substantial with over 75 plays and a considerable number of poems and short stories. His work is still appreciated world-wide and other dramatists such as George Bernard Shaw and Oscar Wilde were inspired by Gilbert when writing their own dramatic material. His poems were mostly constructed in a jaunty, pleasing style that encourage the reader to recite the lines almost as if they are being sung! Here is an example, a poem called National Anthem which pokes fun at this constitutional staple. He may have been referring to the British anthem, although his words could be used to describe that of any number of other countries: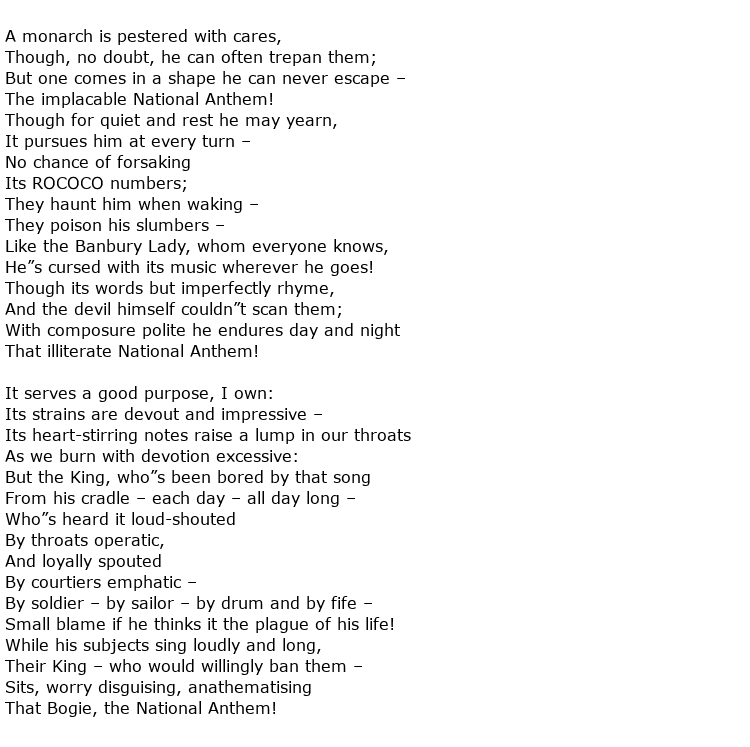 Tributes far too numerous to mention have been paid to Gilbert over the years but one by The Cambridge History of English and American Literature sums him up very well. They said that



In 1907 Gilbert became the first British writer to be knighted on the strength of his literary output alone. Alas he was not able to enjoy this honour for too long as he died in a swimming accident in 1911 while trying to rescue a young woman struggling in the lake at his home. He suffered a heart attack.
Sir William Gilbert died on the 29th May 1911 at the age of 74. A memorial was placed on the Thames Embankment in London which reads: