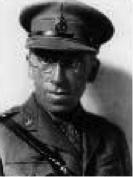 Wilfrid Wilson Gibson was an English poet and playwright whose work was produced during the early years of the reign of King George V, thus placing him in the group known as the Georgian poets. Other writers belonging to this group included Siegfried Sassoon, D. H. Lawrence and Rupert Brooke. Both Sassoon and Brooke are well known as First World War poets and Gibson was also associated with them but he was one of the lucky ones who survived the war, and went on to write much more afterwards.
He was born on the 2nd October 1878 in the Northumberland town of Hexham. His mother died in 1914 and he left the north east at this time, hoping for greater fortune in London. He was already a published author, having started at the age of 17 with poems that appeared in various magazines. He moved on to book publishing with a collection called The Stonefolds, in 1902, On The Threshold (1907) and The Web of Life a year later.
He may have moved a few hundred miles south but he never forgot his Northumberland roots and much of his work had titles reminiscent of home: The Kielder Stone and Hexham"s Market were good examples of this nostalgia for his birthplace. Typical themes in his work were the wild Northumbrian landscapes, the trials and tribulations of those working in heavy industry and the coal mines, and tales of brave fisherman at peril on the rough North Sea. The area has a rich tradition of ballads and folk songs and Gibson used some of this material in his own poetry. He also wrote a play called Daily Bread which was produced in 1910.
During his early years in London he sought the company of literary men such as Brooke, Walter de la Mare and Edward Marsh. The first anthologies of the Georgian poets came of such associations, with Gibson being one of the founding members of this group. He had an interest in writing about macabre subjects; sometimes stories that were based on real events. One such was a poem named Flannan Isle, written in 1912, which tells the true story of three light house keepers on the Outer Hebridean Flannan Isles. The story goes that they disappeared and that there was no logical explanation as to why. Here are the opening verses to this long, haunting poem: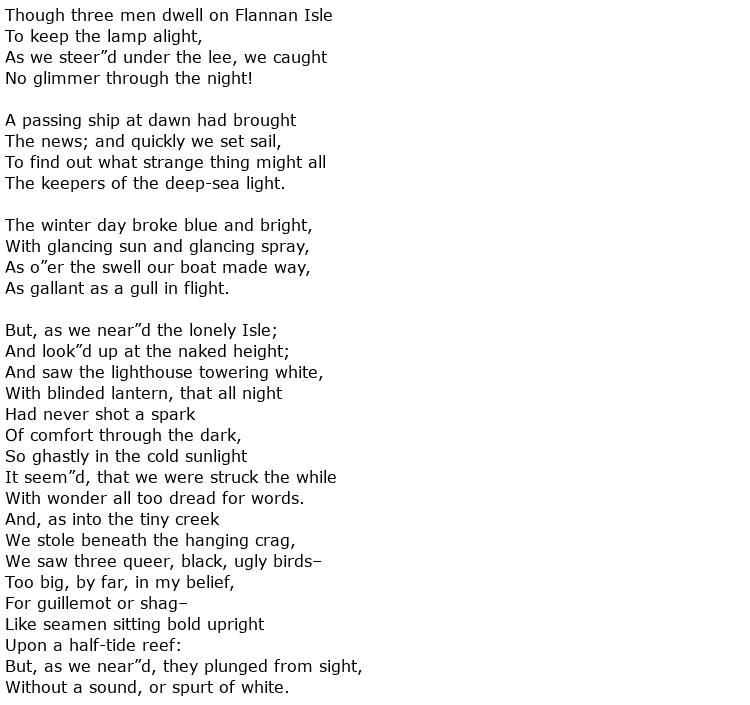 Gibson was a member of another group of writers besides the Georgians. Between the years 1911-1917 a small community was formed within the Gloucestershire village of Dymock. Gibson was one of the founding members of the Dymock Poets, a group that included Robert Frost, Edward Thomas and Rupert Brooke. Many of the poems written at this time were published in the group's own magazine, New Numbers. It was broken up when Thomas, who had survived two years of Army service, some of it on the front lines in France, was killed by an exploding shell at Arras.
Gibson was one of the lucky ones. He enlisted for Army service but never served overseas and did not progress beyond the lower ranks. He wrote poems at this time as an ordinary soldier, in contrast to others of his generation who served as officers in the terrible conflict. He continued to write after the war, focussing on the struggles of the farm labourers and factory workers of post-war England. Further collections of poetry were published, including Collected Poems: 1905-1925, in 1926, The Island Stag in 1947 and Within Four Walls (1950).
He remained a popular poet even though the Modernist style of poetry, as written by T S Eliot and Ezra Pound, soon eclipsed the work of poets like Gibson.
Wilfrid Wilson Gibson died on the 26th May 1962 at the age of 83.