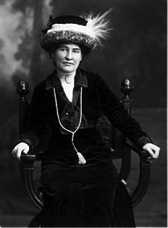 Willa Sibert Cather was an American poet and novelist, and sometime teacher, who grew up on the plains of the developing American West and wrote about her experiences of frontier life with a trilogy of books starting in 1913 with O Pioneers!   The story continued with The Song of the Lark in 1915 and ended with My Ántonia, published in 1918. She was a Pulitzer Prize winner for her 1922 novel set in the First World War called One of Ours.
She was born Wilella Sibert Cather on the 7th December 1873, the eldest of seven children, at a farm owned by her maternal grandmother in Back Creek Valley, Virginia. Her family could be traced back over six generations of farmers in that area with the original settlers being Welsh immigrants. The family name, Cather, was derived from the great mountain in the county of Gwynedd known as Cader Idris.
At one year old, Willa's parents moved the family to another farm nearby but, eight years later, they were in Nebraska. Part of the reason for moving was to escape from the outbreaks of tuberculosis that were found all over Virginia at that time. The farming life was short lived though and they soon moved into Red Cloud where Willa was able to attend her first school.
She always said afterwards that she was deeply moved by the landscapes of the frontier lands and the interaction between the immigrant European-Americans and the Native Americans who lived amongst them. She described the frontier of Nebraska as a



Willa showed an early aptitude for reading and writing and, despite starting her education a little later than some, she went to the University of Nebraska-Lincoln and became a regular contributor of articles to the Nebraska State Journal. Her original intention had been to train as a doctor but she changed courses and graduated with a Bachelors' degree in English in 1894.
In the following years she lived in Pittsburgh, contributing poetry and short stories to a number of magazines before, at the age of 33, moving to New York City to join the editorial staff of McClure's Magazine.  Her first novels brought her critical acclaim from The Atlantic magazine and the New York Times. While concentrating mostly on story writing she delved into poetry on occasions, with titles such as London Roses and Poppies On Ludlow Castle, both references to her British ancestral roots. Here is the poem about the flower sellers that could be found in London's early 20th century Trafalgar Square and many other city locations: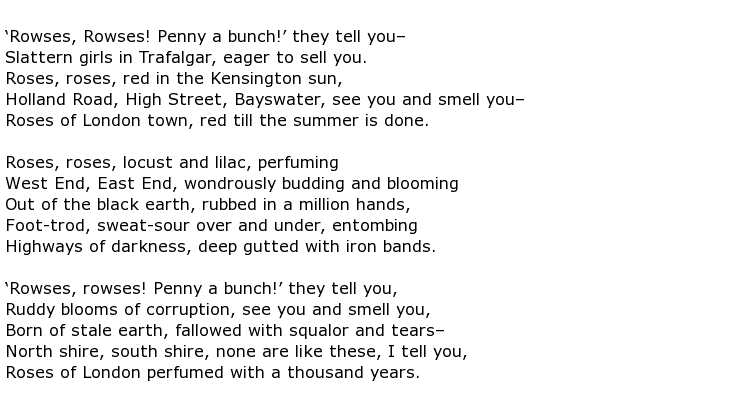 Miss Cather never married and there were suggestions that she had lesbian relationships throughout her life. Indeed, when she was a student at Nebraska she adopted a distinctly male look, wearing men's clothing and sporting a cropped hair style. Perhaps her early frontier life shaped her character, encouraging her to shun the ultra-feminine styles that were so popular everywhere. She lived with a woman called Isabella McLung for a number of years and it was said that she dedicated all of her books to her close friend.
Miss Cather has a number of honours to her name with educational foundations and public buildings in Nebraska being named after her. She was inducted into both the New York Writers and Nebraska Halls of Fame. She lived much of her later life in New York and it was here that she died of a cerebral haemorrhage, at her home in Manhattan.
Willa Sibert Cather died on the 24th April 1947 at the age of 73.