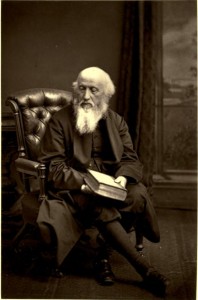 Famous for writing poems in his native Dorset dialect, writer and poet William Barnes was born into a farming family in Bagber in 1801. He grew up speaking in the dialect of the day and saw his upbringing as idyllic, something which came across in his later pastoral poetry that celebrated the simple folk of the county.
Barnes left school at 13 and, reasonably educated, he went to work for a solicitor as a clerk and he used the time to further his own learning in subjects such as science, literature and religion. He also took up several musical instruments and first found an interest in poetry. With this education, at the age of 22 he decided to set up a school in Wiltshire. There he married Julia Miles and began to bring up a family, eventually moving to Dorchester where he continued to run a school.
It wasn't until he was in his forties that he began to publish his collected works although he had submitted individual poems to magazines and newspapers over the years. While his wife managed the business of the school, Barnes himself decided to become ordained and studied for a degree in Divinity at Cambridge. He was finally ordained in 1847 and served at a number of curacies in Yorkshire and Dorset before becoming the rector at Winterbourne Came where he remained until his death.

Barnes was greatly affected by the death of his wife Julia in 1853 and the school they ran was left to fall into decline. His Poems of Rural Life in the Dorset Dialect had been published back in 1844 and he now produced two further volumes as well as some collections in national English. He was a great lover of history and contributed several articles on Dorset's rural past to Gentleman's Magazine. He was also concerned with, and wrote extensively about, the lot of the poor and the future of education.
Over his later years he became one of the most respected poets in the country and counted the likes of Hardy and Tennyson amongst his friends. His poetry was characterized by its insight into simple country life and his tender feelings for the lot of the average man. Although he wrote on a large range of issues, it is for his poetry particularly that written in the Dorset dialect, that Barnes is most well-known, influencing many future literary greats such as Auden and Sassoon.
In essence, Barnes presents a farming community that is largely pre-industrial, written in their own dialect which gives us a valuable insight into the life, loves and aspirations of the men and women of Dorset at the time. He considered that dialect as pure English and even campaigned for the removal of Greek and Latin words to be removed as a way of purifying the national language.

William Barnes died in 1886 at the ripe old age of 86 and was buried in the Winterborne Came church where he had been rector for so many years.