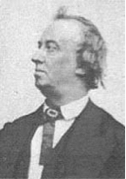 William Brighty Rands was an English writer of the 19th century who specialised in writing for children. For some time he was a chapel preacher and wrote a number of inspirational, original hymns that have been included in Congregational hymn books. He was a shy, sometimes eccentric, man who clearly didn't actively seek fame and fortune as a poet and novelist, as evidenced by the fact that he wrote using various pseudonyms. He published books and contributed to many periodicals under the names Henry Holbeach and Matthew Browne, among others. He was also a popular and valued reporter who worked in the committee rooms of the House of Commons on occasions.
William Brighty Rands was born on the 24th December 1823 in Chelsea, West London. He was the son of a small shopkeeper and so grew up in fairly modest circumstances. His education was sparse but he taught himself much from the second hand books that he perused while frequenting the local street markets. When a little older he worked for a time in warehouses and offices, and he even dabbled a little in acting on the stage. He had ambitions though to be a reporter, and maybe a poet, and he taught himself the art of stenography.
It was a slow process but he eventually secured a position, in 1857, with a company supplying reporters to the House of Commons. He did well in this line of work and even earned a vote of thanks from one committee that was discussing the merits of the Armstrong and Whitworth ordnance. It was fairly demanding work though and he had to give it up in 1875 for health reasons.
In between parliamentary assignments he forged ahead with his other passion – writing for various London periodicals. He contributed articles on "men and manners" to the Illustrated Times. This was a regular, weekly column under the title The Literary Lounger. He found he had an interest in writing for children and added pieces to such publications as Good Words for the Young and Cassell's Boy's Paper. Under one of his pseudonyms, Henry Holbeach, he wrote a charming story called Shoemakers' Village.
He also wrote for adults such pieces as Moral Criteria and Moral Codes which appeared in the Contemporary Review in 1869. Between 1874 and 1875 he wrote for the Saturday Journal, contributing a monthly column under the title Monthly Supplements of Notes, Literary, Social, and Scientific. Other articles were written for the Pall Mall Gazette and the Spectator while, in 1878, he was one of the founders of a newspaper in London called the Citizen.
His time as a preacher at a Brixton chapel was notable for his hymn writing and many were published in various hymn books. His natural ability as a poet helped in this task of course and he found it easy to write words that could be set to music.
One of the few collections of poems that appeared under his own name was Chain of Lilies and other Poems. Although he was happy for it to be published, he later expressed dissatisfaction with the work. He was much happier with his poetry for children and he was described as "the Laureate of the nursery". He wrote a fairy tale every Christmas over a number of years and these were described as



Rands had a great love of nature and this is illustrated in his poem Great, Wide, Beautiful, Wonderful World which appeared in a collection called Lilliput Lectures in 1871. Here is the poem: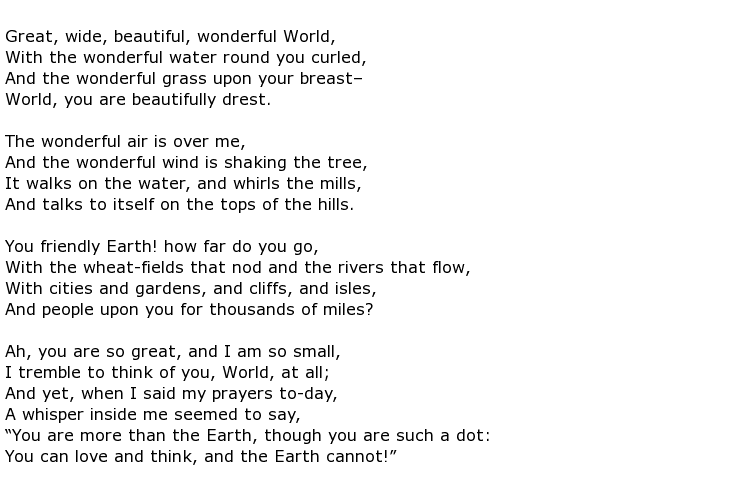 William Brighty Rands died in East Dulwich on the 23rd of April 1882, aged 58.