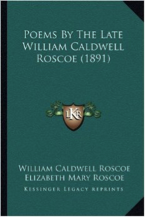 William Caldwell Roscoe was a 19th century English journalist and poet whose life, like many at that time, was cut tragically short by typhoid fever. His two best known pieces of dramatic work were tragedies called Eliduc and Violenzia and he contributed poems, essays and literary criticism to publications such as the National Review and Prospective.
Roscoe was born in Liverpool on the 20th September 1823 into reasonably comfortable circumstances. His parents sent him to a small private school near Liverpool called St. Domingo House and he then went on to University College in London. He graduated from there at the age of 20 with ambitions to become a lawyer. In 1850 he was called to the bar and practised law for two years but then withdrew from the profession. This decision could have been influenced by his poor health but he also had serious doubts about his suitability for a career in law and he questioned his qualifications for it.
He married in 1855 and moved to Wales where he raised a family and concentrated on writing poetry. He also spent time studying the history of Welsh slate quarrying. He had a ready outlet for his work as his brother in law, a Mr R H Hutton, was the editor of the National Review and took whatever was offered by Roscoe. In addition to the tragedies mentioned above he wrote a considerable amount of so-called fugitive poetry and numerous essays. Mr Hutton eventually collected all of this together and published it in book form in 1860, a year after Roscoe's death. Later on a revised collection was compiled by his daughter Elizabeth Mary Roscoe and she had this published in 1891.
Critics have pointed out that Roscoe's admirable qualities of great moral and intellectual refinement possibly distorted his writing. For example, in the tragedy Violenzia, he may have portrayed the "good characters" as too good, with the "bad characters" being too bad. Furthermore,

The other tragedy, Eliduc, is

His minor, shorter poems could be described as being of a lyrical nature, often displaying grace and feeling. Here is a good example, a poem which he called Spiritual Love:

As well as contributing written pieces to such as the National Review, Roscoe was also an able literary critic. He was often described as a critic with a light, subtle touch although he was not without the power to startle readers occasionally. His observations though were always distinguished by a great deal of common sense.
Tragically William Roscoe suffered from poor health and, like many thousands of others across 19th century Europe, he fell victim to typhoid fever. The disease took hold in July 1859 and he was unable to fight it.
He died of typhus in Richmond, Surrey on the 30th July 1859 aged just 35.