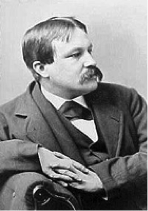 William Dean Howells was an American poet and novelist who wrote in a strictly Realist style. He also contributed to numerous publications with literary reviews of other writers while occasionally writing plays. In later life he made the statement that, in his opinion, "the future of American writing was not in poetry but in novels". He also believed that the romantic storytelling seen up to the 19th century would be overtaken by writing of a more serious nature. Apart from his literary and occasional journalistic work he served time as a Clerk at the State House of Representatives and a great honour came his way in 1860. Having written a well-received biography of Abraham Lincoln which was used during the election that year, he was appointed to a diplomatic post in Venice.
Howells was born on the 1st March 1837 in the town then known as Martinsville, Ohio. It is now called Martins Ferry. His father took his wife and large brood of eight children around the State regularly due to his occupation as a newspaper editor and printer. William was taught the trade early on while developing his skills as a writer. His father was so impressed by his poetry and arranged to have one published in the Ohio State Journal without his son's knowledge. It was not a well-off family by any means but young William was always encouraged to develop his talent.
Having embarked on his administrative career at the State House of Representatives he was also involved in the Ohio State Journal where he contributed poetry and short stories but also translated German, Spanish and French pieces. His interest in German was quite keen and he found himself influenced by the famous Heinrich Heine. Shortly before embarking on his appointment to Venice, Howells made the acquaintance of famous literary names such as Ralph Waldo Emerson and Oliver Wendell Holmes while visiting Boston.
He was in Europe for five years from 1860 and married while in Paris, at the American embassy. Back in the United States Howells took up writing for magazines such as Harper's and Atlantic Monthly, eventually becoming editor of the latter. He struck up a lifelong friendship with Mark Twain and was heavily influenced in his preferred Realism literary style by a journalist called Jonathan Baxter Harrison. Howells was invited to give a series of 12 lectures to the Lowell Institute in 1871 on the subject of "Italian Poets of Our Century".
Howells instilled the Realism style into both his novels and his poetry and this was most evident in a powerful novel called A Modern Instance, which was published in 1882. It was a hard-hitting story portraying a marriage in decay and was the piece of work which really established his name in literary circles. He was very keen to highlight social issues of the late 19th century and made a political statement when he joined the Anti-Imperialist League in 1898 in protest at the government's annexation of the Philippines.
Two collections of poems were published in 1873 and 1886, and a third in 1895 was called Stops of Various Quills. Here is Howells' somewhat fatalistic view of life in a poem called If: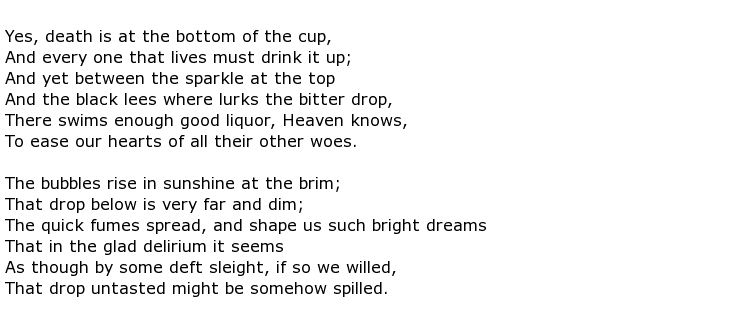 In 1902 he diversified into children's books with a story thought to be based on his own childhood called The Flight of Pony Baker.
Having lost his wife in 1910 Howells suffered great loneliness and, even when at home with his daughter, they both found it "dreadful in its ghostliness and ghastliness". He survived another ten years as a widower.
William Dean Howells died peacefully on the 11th May 1920, aged 83.