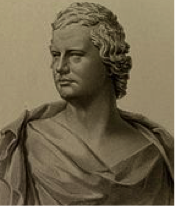 William Edmondstoune Aytoun was a 19th century Scottish poet, translator and lawyer who was also a Fellow of the Royal Society of Edinburgh. He is often referred to as 'the first modern professor of English literature'.
He was born on the 21st June 1813 in Edinburgh and his father, Roger Aytoun, held the privileged legal position of writer to the signet. This meant that he was a member of a long-established private society of Scottish solicitors known as the Society of Writers to Her Majesty's Signet. This auspicious group was originally formed in 1594. A somewhat softer side of parental life was offered by his mother who instilled in her son a love of literature. William was educated from the age of 11 at the Edinburgh Academy and then he went on to the University of Edinburgh.
Perhaps encouraged by his father, he went to London to study the law in 1833 but he interrupted this with a year-long trip to Germany. He studied the German language in the Bavarian city of Aschaffenburg before returning to London in April 1834. He gained admittance as a writer to the signet a year later and eventually became a certified Scottish lawyer. It seemed, though, that despite his progress as a lawyer, he retained an interest in becoming a poet as well.
In 1832 he had published his first collection of poems called Poland, Homer, and other Poems, indicating in this his keen interest in the long-established state of Poland. Then, during his stay in Germany, he created a blank verse translation of the first part of Faust but there could be no commercial success with this venture as others had done it before him. He then began a life-long association with Blackwood's Magazine, a publication that had first appeared in 1817 under the title Edinburgh Monthly Magazine. This proved to be a useful outlet for Aytoun's poetry and other work. The Lays of the Scottish Cavaliers, which proved to be his best known piece of poetic work, appeared here.
He very much favoured the ballad style of story-telling poetry and made a speciality of historical pieces that told, in vivid detail tales of Scottish heroes and the tragedies that often befell his country. Examples of this work were



Here are the final three verses of The Execution of Montrose, a poem that tells the sad tale of the hanging of a brave Scottish nobleman: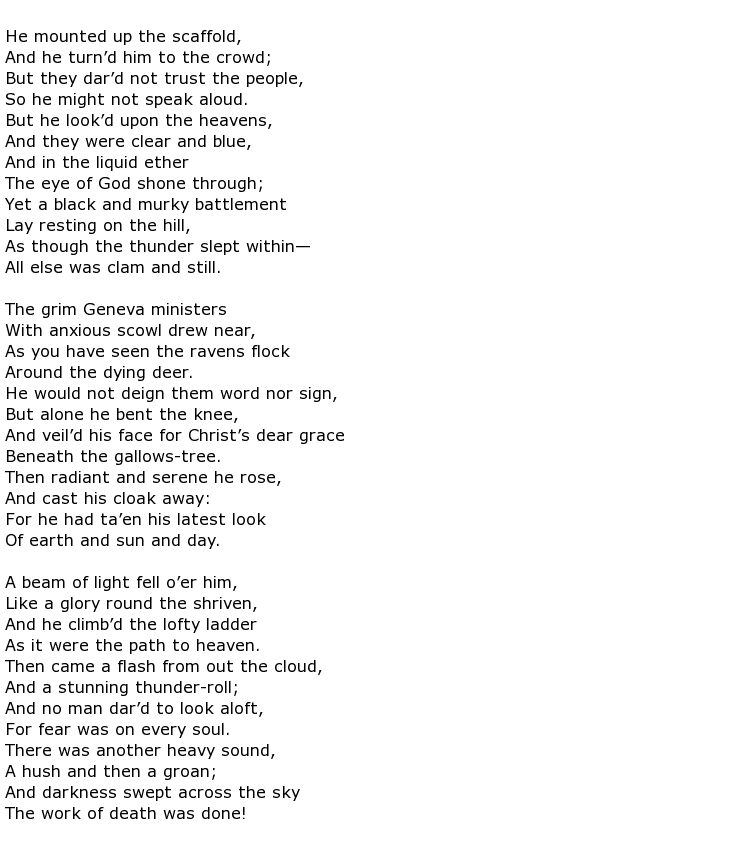 Not all of his work concerned such serious matters though, and he published humorous stories in prose form such as How I Became a Yeoman and The Glenmutchkin Railway. Around 1851 he collaborated with another writer called Theodore Martin on a series of articles about the foibles and fashions of Scottish gentlefolk at that time. These were published in Blackwood's Magazine and included verses that would later become the popular Bon Gaultier Ballads (published in 1855).
Aytoun's reputation as a poet and public speaker led to his appointment as professor of rhetoric and belles lettres at the University of Edinburgh and students attended his lectures in great numbers. He also became a popular satirist when he wrote a mock-tragedy play poking fun at the so-called "spasmodic poets".
William Edmondstoune Aytoun died on the 4th August 1865 at the age of 52.