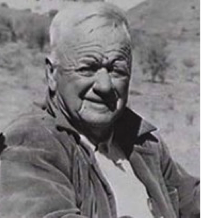 William Edward Harney, more often known as Bill Harney, was an Australian outback writer whose work often featured the lives of the Northern Territories Aboriginal people. He lived a tough, uncompromising life, overcoming poverty and hardship whenever he could.
He was born on the 18th April 1895 in Charters Towers, Queensland. His parents had emigrated from England and the education of their three children did not seem to be a priority although William did attend school up to the age of ten. His father was a miner and found it hard to find work. It was common for children to be employed from a young age and William was riding the rabbit-proof fence boundaries of Western Queensland, working as a drover, at the age of twelve. Later on, like many young men, he joined up as World War One developed and he saw active service on the Western Front in France.
On his return to Australia he went through a variety of jobs and got married in 1927. His wife bore him two children but tragically he lost her to tuberculosis after five years of marriage and then he lost both children as well – his daughter died in 1934 of the same disease as her mother and his son drowned in 1945. He had another son by an indigenous Australian woman of the Wardaman people. He clearly had an interest in the lives of Aborigines and subsequently took up a Government appointment as Protector of Aborigines from 1940 until 1947.
In 1957 he was made the first ranger of Ayers Rock-Mount Olga National Park, Uluru and it was a job that he loved. He had been told the story of the Rock by Aboriginal friends and delighted in passing on this mythological knowledge to tourists who had just started to come in numbers. He remained in this post until retirement five years later.
As well as working amongst Aborigines he had a keen interest in writing about them. Some of this was done while serving a three-month sentence in prison for cattle rustling and he also made the time to read English literature classics. His first published works were probably in magazines such as The Bulletin. He was contributing poetry to them from around 1941 and, thus encouraged, he started work on books charting his life as a drover and about the Aborigines. These titles included Taboo in 1943, Content to Lie in the Sun, published in London in 1958 and Grief, Gaiety and Aborigines (London, 1961).
Here is an extract from a typical piece of work by Bill Harney. It is a highly descriptive account of a journey through the outback called West of Alice. Here are the first four verses: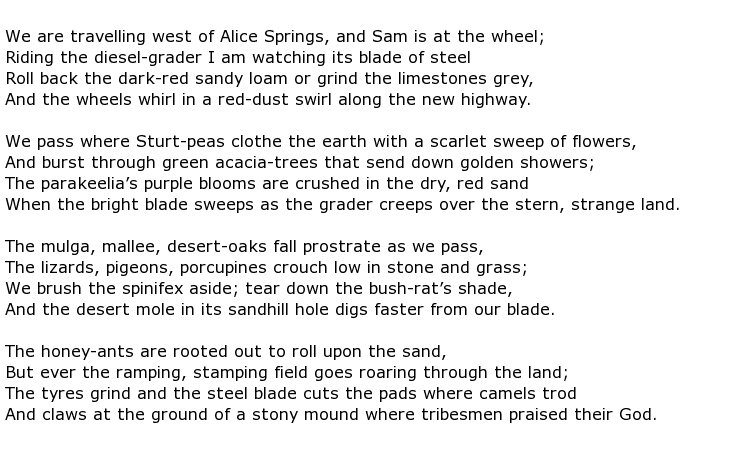 His work was popular, being both informative and humorous and all the more remarkable considering his lack of formal education. He worked hard to educate himself throughout his life, becoming a real authority on Aboriginal culture and customs. He was also an excellent speaker on the subject and he was even invited to London to tell of his experiences on BBC radio.
He lived a tough, outdoor life but his heart failed him at the end of 1962 when he suffered a coronary occlusion.
William Edward Harney died on the 31st December 1962 at home in Shady Tree, Mooloolaba, Queensland. He was 67 years old.